Flying South

Back at the Pole

Auroras 2016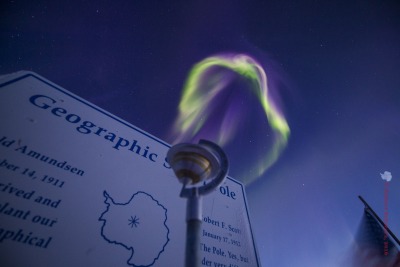 medevac preparations

midwinter medevac

November 2016

12-11-16

When I was talking about my 20 year anniversary here, I didn't mean to celebrate it here at the Pole, I'm supposed to be in Christchurch already for a few days, but still stuck at the Pole and not going anywhere in the next 2 days at least...
I planned a few days buffer, but not a week. At this point we got 3 Hercs from 18. Most of the LC-130 are broken or have mechanical problems and then there is the weather as well or wrong forecasts, and the beauty sleep for the air crew ;) What it comes down to is the most rigid system where you don't adjust to possibilities, weather openings etc. which is quite frustrating. And of course you can't fly on Sundays even the last flight was nearly a week ago, and then one of the 2 working Hercs has to fly North to NZ as a rotator flight to rotate the air crews, they can't come down or leave on the C-17 on the same day, taking one of the working planes away from the continent again .... We had one Basler on Wednesday that took out 5 people, so guess who gets to leave, some apparently very important people that were on station for nearly full two days or winter-overs? So all the important people went out and for the remaining one seat 4 of the winter-overs could decide who will go. So all a bit frustrating, especially it means I already lost a quarter of all my summer days for 2016, coming back winter after winter the few days you can run around in NZ with shorts, sandals and enjoy some warmer weather is much longed for.

At least I have enough stuff here so I can get fresh clothing etc. Because I checked my bags last Monday, my fellow winter-overs that will not come back have to get along with the clothing they wear or what they got in their carry on.

October 2016

31-10-16

Today 60 years ago the first plane ever landed at the geographic South Pole. Here are 2 more links:
First Plane Lands At South Pole (1956)
First Aircraft on the South Pole, R4D-5

Another anniversary is coming up, in a few days, 20 years ago, it was the first time I set my foot on the ice at the geographic South Pole :)

30-10-16

So the station opening this year is a bit like Schrödingers cat - which is in a state of dead and alive, well we are in a state of open and not open. Opening of the station is normally when the first Herc arrives, but we haven't had any yet, on the other side we already said goodbye to 14 fellow winter-overs and got 18 summer people here. We already got 2 Baslers since the Hercs have problems - again. Although the first Basler was delayed for 6 days because of bad visibility here. So we are in a semi state and might get the first Herc tomorrow.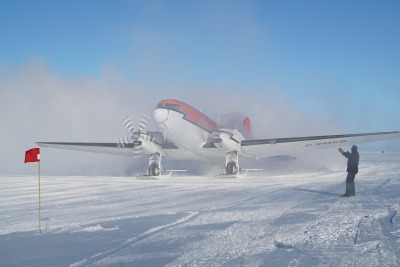 The last weeks were very busy, moving, packing, cleaning, shoveling lots of snow - getting ready for summer. But things are looking better every day. Still a bit to do before our people arrive next week, if planes and weather are willing. Again as every year it is sad to see good friends leave.
This year I will leave about a week earlier than the past years, so if all goes well I already will be in NZ sitting in the sun in 2 weeks :).

15-10-16

Less than 2 weeks until the first Herc - invasion ;). The first Basler and Twin Otter made it through on their way from Rothera to McMurdo. The Baseler only refueled and then continued, the Twin Otter had to stay overnight for pilot rest. The Basler is supposed to return on 21st of October with a handful of summer people to start on some summer tasks.
For us it's packing, moving, shipping boxes home, cleaning up and all the opening tasks. Busy last days, but in a month I'm hopefully running around NZ in shorts ;)

Here is another new movie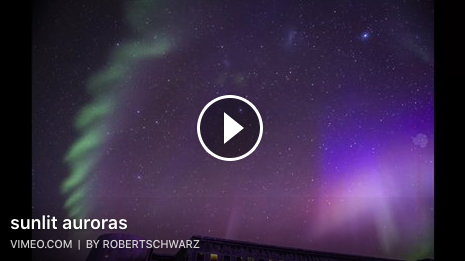 And don't miss out on the aurora movie, see link below it deserves a few more views ;)

03-10-16

Sun is up already 4&deg, still cold with below -60&degC but first planes for fueling on their way to McMurdo should be here in less than a week, and the first Hercs with summer people are scheduled on the October 27th, still a lot to do until then.

Also finished the Aurora movie for 2016 and some still working on some other movies I never came around to do.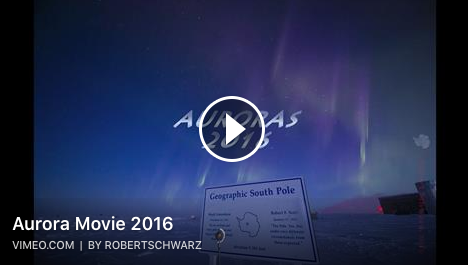 I also finally finished the time lapse about the Mars retrograde motion. I never had such a bad ratio of actual video output to work put into it, the 16 seconds of actual retrograde motion video took me about 60 hours of work to pick the pictures, process them and especially align them. But this might be the longest retrograde motion video there is, since the camera was out for 4.5 months at temperatures down to -78&deg°C. You can also see days with different weather at some days it was totally overcast.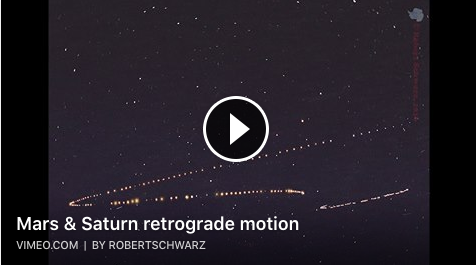 September 2016

23-09-16

Equinox, the sun is up now, but weather is not very good so we don't really see the sun. But this year we had a new record when we saw a refraction of the sun for a few minutes on Sep 08, only hours after we entered civil twilight. Since then we saw the refraction once in a while.

05-09-16

And August auroras are up as well :)

03-09-16

The last 2 weeks were quite busy keeping the telescope running. We got a big problem with wear since it is the third telescope on the same mount and we move it a lot, really a lot. So the key wore out again and the telescope had too much play when the motor changed direction in azimuth, we replaced the key and gearbox, but that one only lasted a week, it must have had some previous damage, because this one literally grinded to an halt and lost some teeth. After another spare was put on, the telescope wouldn't move because of electrical problems now. At the moment it's happy again and running, hope it stays like that.
Two pictures of the telescope wheel and keyway where the gearbox attaches and not such a good gear.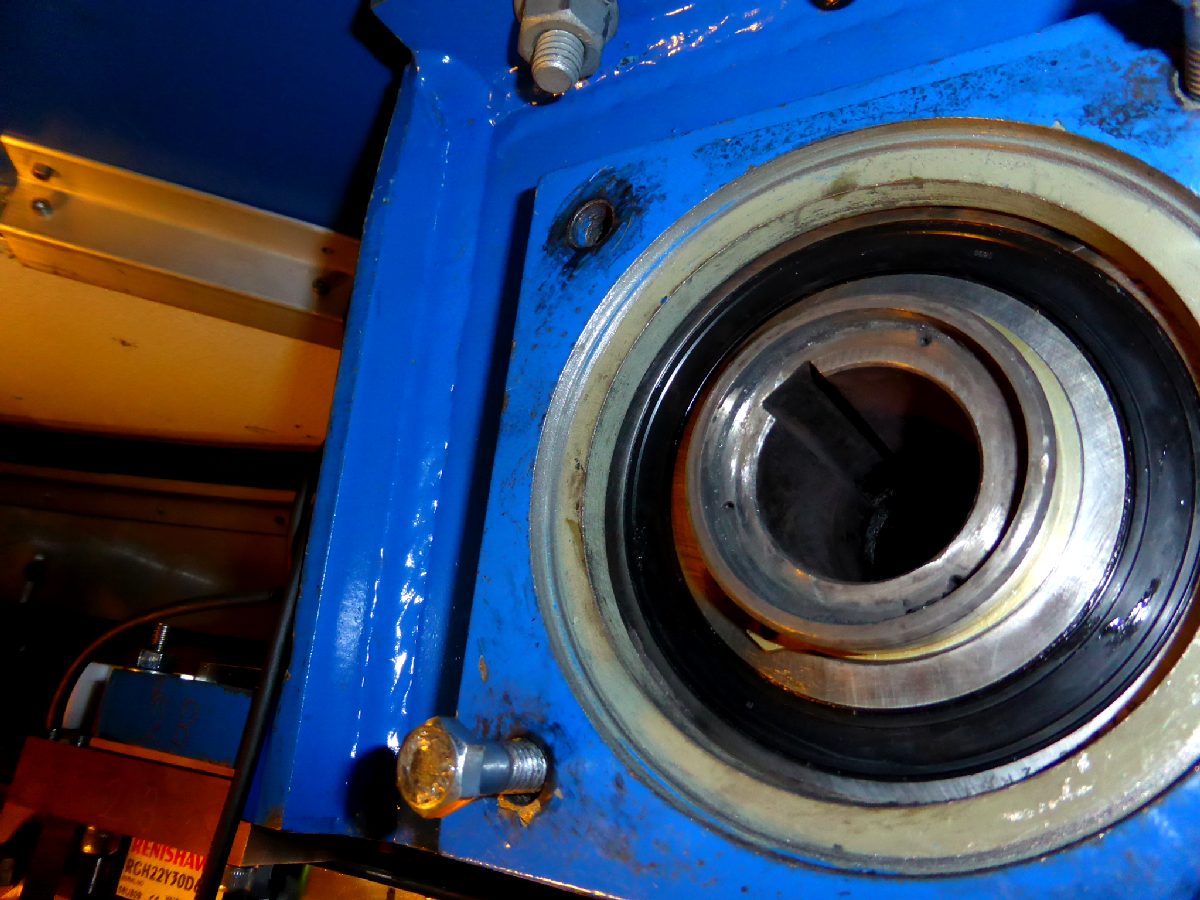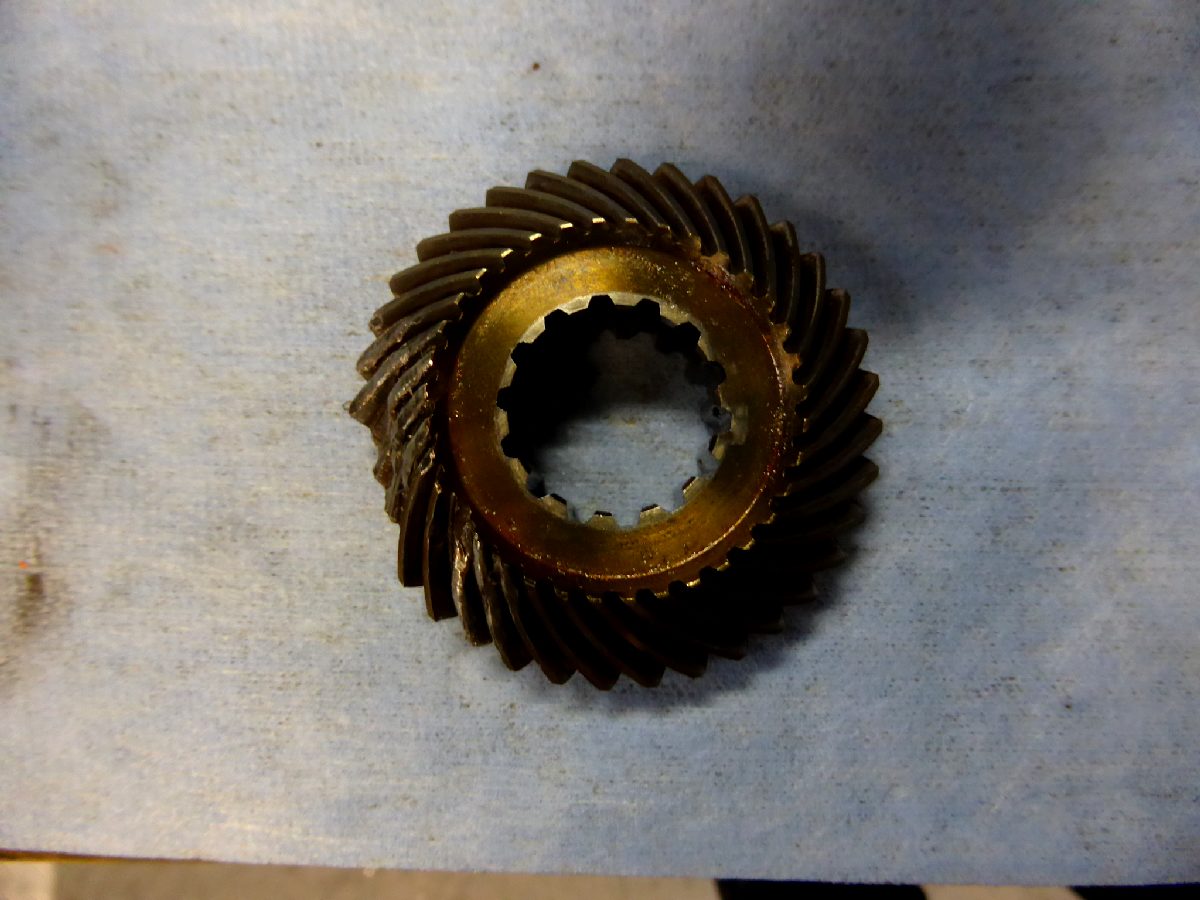 I also uploaded best of July's auroras.

August 2016

22-08-16

It is getting quite bright, last view days of auroras :(. We are losing the milky way. Also the moon was up for the last 2 weeks which washed out the transition from dark to twilight a bit. Here another panorama in different variations.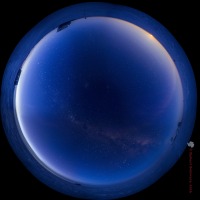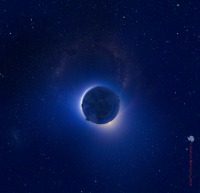 06-08-16

So we passed into astronomical twilight, sun is only 16.5° below the horizon. And tomorrow the moon will be up again, so the last really dark skies for this winter. Two panoramas first one from the evening 04 Aug and the second one about 6 hours later in the early morning hours of 05 August. The second one also as a "little planet" projection.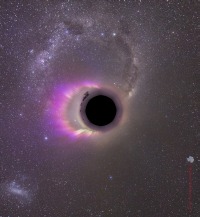 End of July I did some time lapses right at the Pole looking straight up, with the geographic South Pole marker just at the bottom of the picture. For creating the star trails I used the freeware starstax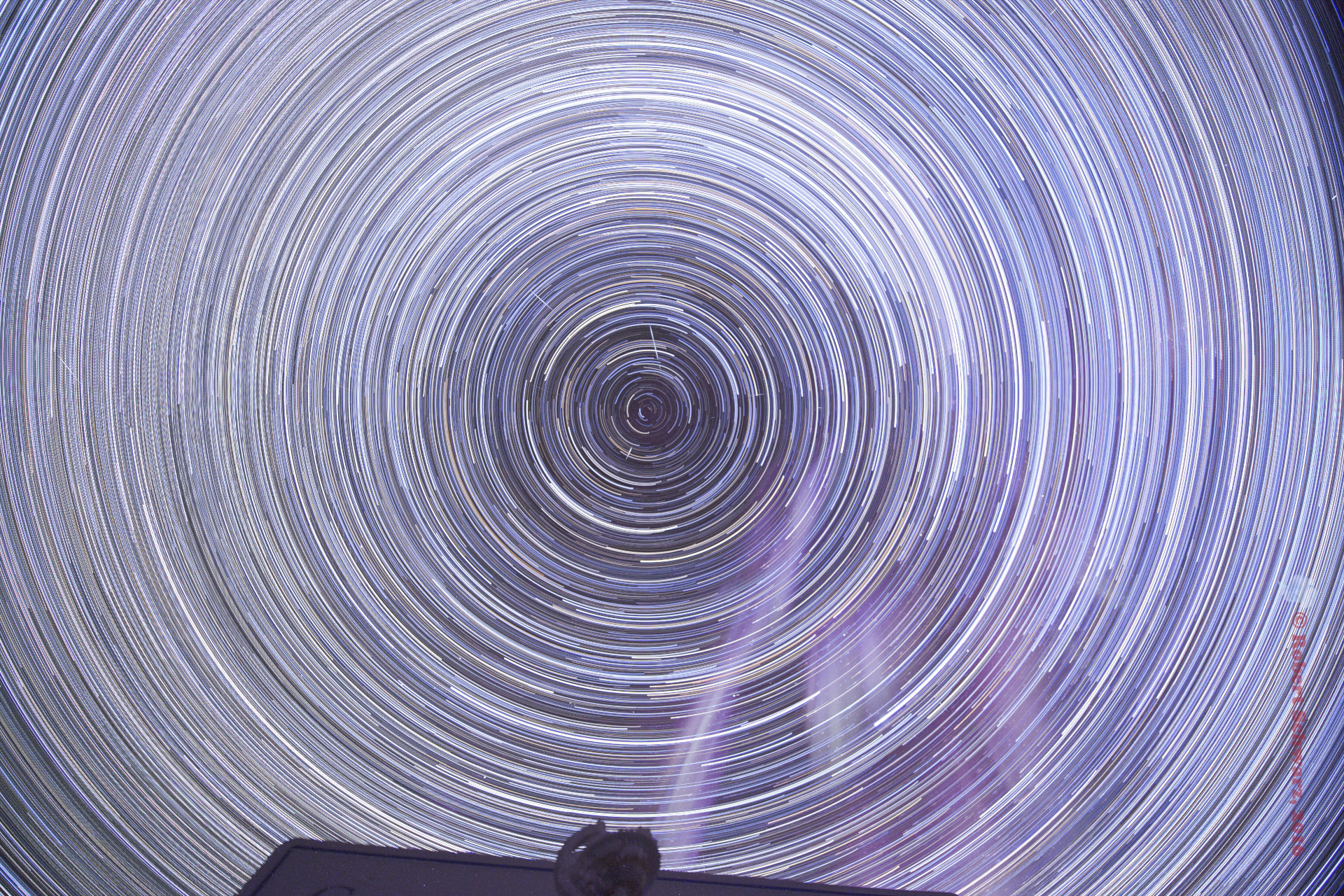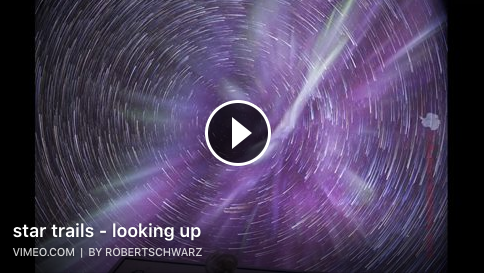 July 2016

29-07-16

Two new movies from the tracking mount, when the moon rose mid July. Unfortunately the weather turned bad so I made 2 parts out of it. The mount turns 360&deg in 18h so it's a bit faster than the sky rotation. Once the moon is up it's getting quite bright.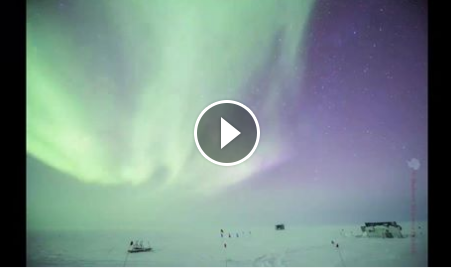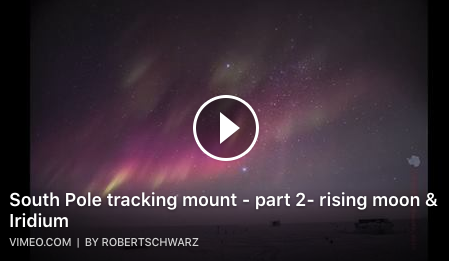 23-07-16

Nice, cold, clear weather, moon is still up. As well are the highlights of June auroras. Had some telescope trouble after a glycol pump for the cooling compressors quite. Tomorrow on the 24th it's xmas in July, it's cold, we got snow, so why not ;)
09-07-16

Had some cold days again with temperatures below minus 70&degC and therefore clear skies. Took some panoramas, they are composed of at least eight single images. Then I use autopano giga to stitch them together. It's not so much "auto" as the name suggests so I have to line up stars by hand to stitch them together.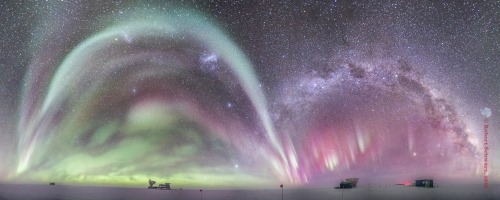 Here are the eight single images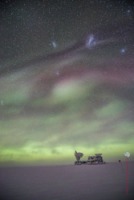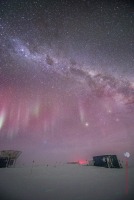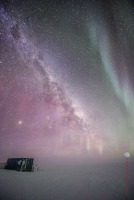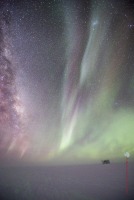 And some other projections of the same panorama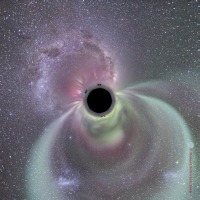 June 2016

27-06-16

If you read the news and you are familiar with the context you know how many mistakes there are in articles, here is now an example of a well researched and written article that appeared in Der Spiegel a German news magazine, sorry, only in German ;)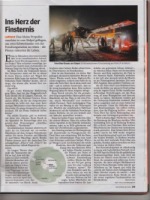 25-06-16

So Brexit is the new world wide news theme, although the South Pole medevac got quite a bit of coverage in the world press. We are still in the process of clean up and there is still a lot of work left on this side to take the fuel pit and service buildings down again, it would just cause tremendous drifting and no hose or cord would be found again. The fulies and heavy equipment operator did and doing an awesome job.
My part was compared to that quite simple, I had 5 bright headlamps with strobe mode I ordered last year on Amazon for sailing trips. Since nothing is running outside long just on batteries with our temperatures, everything has to be heated. Since I have quite a bit of experience how to run cameras outside for extended periods, I made some heated camera boxes, with a hot water bottle. A test showed, the lights would run at least for 4.5h compared to an unheated light which runs about 20min. So plenty of time to go out there early enough to mark the center of the runway with some approach lights.
The station also had some red LED lights with various light modes, we used for marking the end of the runway and the taxi way.
The actual day of the medevac had pretty good weather, not too much wind and only about -62&degC but being outside for about 7h you can still fell the cold, and on that day Matt and I traveled 38.4km on the skidoo, since we had to got place the lights when the plane was an hour out, after landing retrieve them to get them set up for take off again, not that they really need them for take off, but in case there was a problem and the plane had to land again we needed them out there again.

Here are some pictures of the preparations behind the scences. These are only some of my pictures, there was much more going on and everybody down here was involved.

24-06-16

The medevac was a full success, an incredible job done by all involved, especially the air crews and all my fellow Polies. We know there is a reason for not flying to Pole from mid February until October. Now we had a flight just one day after winter solstice, can't be more in the middle of winter. It is brutal to set up a runway, a fuel pit and all the support that is needed for a plane in our current conditions. But it was all worth it, both our fellow winter-overs are in good medical care now in the green world and hopefully will soon recover. Moments like that make a winter very special, when everybody makes the impossible possible and make it look easy as well.

15-06-16

Yes, there will be a medevac, i.e. a plane will actually try to land here to bring out a patient, first time ever in the middle of the winter. Don't write for any information, because you won't get any
Here is the official NSF press relase

14-06-16

If you think it's always cold here in winter, you will be surprised, ok it's always cold in normal standards but over the weekend we had temperatures in the warm -40&degC range (which is also -40&degF, that is where both temperature scales meet) but then in the course of a few hours it cleared up and temperatures dropped back down to -65&degC (about -85&degF).
And yes, since there was not much wind either, -40&degC feels quite warm, great for any outside work that has to be done and it can be that you open your parka while walking outside :)

09-06-16

On June 6 we had some of the best auroras of that season so far, some very fast moving bright auroras, weather cleared just in time after we had some pretty bad weather for a week with overcast skies, lots of blowing snow and of course the drifting that is caused by it. Already done my share of shoveling for this year.
Check out the real time video of the fast moving auroras, incredible fast as well as some more time lapse movies.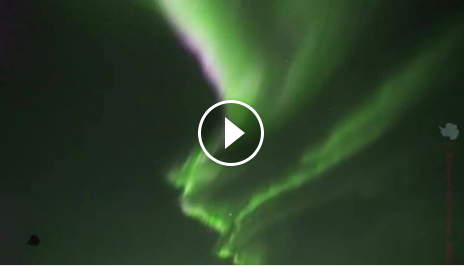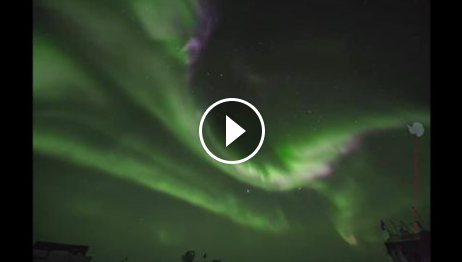 Last weeks were quite busy here, 2 massive He leaks, power outage and some other stuff going on which needed some time. But easy winter over all and only 2 weeks until midwinter, time is flying and so much still to do for this winter ;).

May 2016

28-05-16

Just before the moon came back up, I modified the tracking mount again to turn 360&deg in 18h. Check out this video and look at the wave in the power plant smoke as well the changing light on the ground with the rising moon.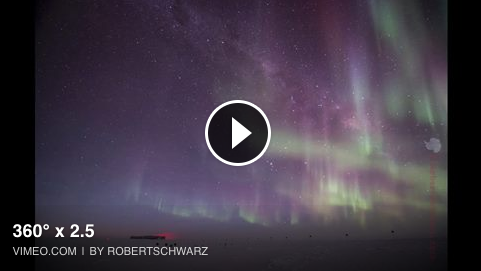 The video starts out when temperatures were still below -100&degF (-73.4&degC) the first time the temperatures hit that magic mark this winter



13-05-16

Had some pretty decent auroras so far also some nice clear days, although it wasn't really cold yet, today at least we got to -65&degC. Cold means clear skies, which is important for our data taking and nice for seeing the stars and auroras. Timelapses are running well, got another one now, for the planet loops of Mars and Saturn. So I got a second box out for the next months which takes 40 pictures of Mars and Saturn every day. Mars moved already quite a bit since I started so I have to find a way to align the stars properly, but then it should be pretty cool and quite unique to have a timelapse of planet loops

I created a new public facebook page "South Pole Skies" this will be update on a regular base, check it out :)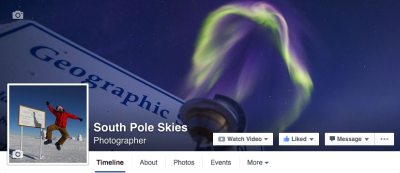 05-05-16

Today is no confusion with the date :) all the same in the US or anywhere else. Had some decent auroras, but lot of the really bright stuff is so short lived that you will miss it, if you are not out right at that time.
Telescope is performing really well. This year we got 4 220GHz receivers so we are kind of the "dust busters" now, we looking primarily at the dust in our galaxy and the induced polarization to get a better understanding how much it contributes, since the Planck data had pretty large errors on their data as well. So hopefully there is still a useful portion in the signals BICEP2 published 2 years ago.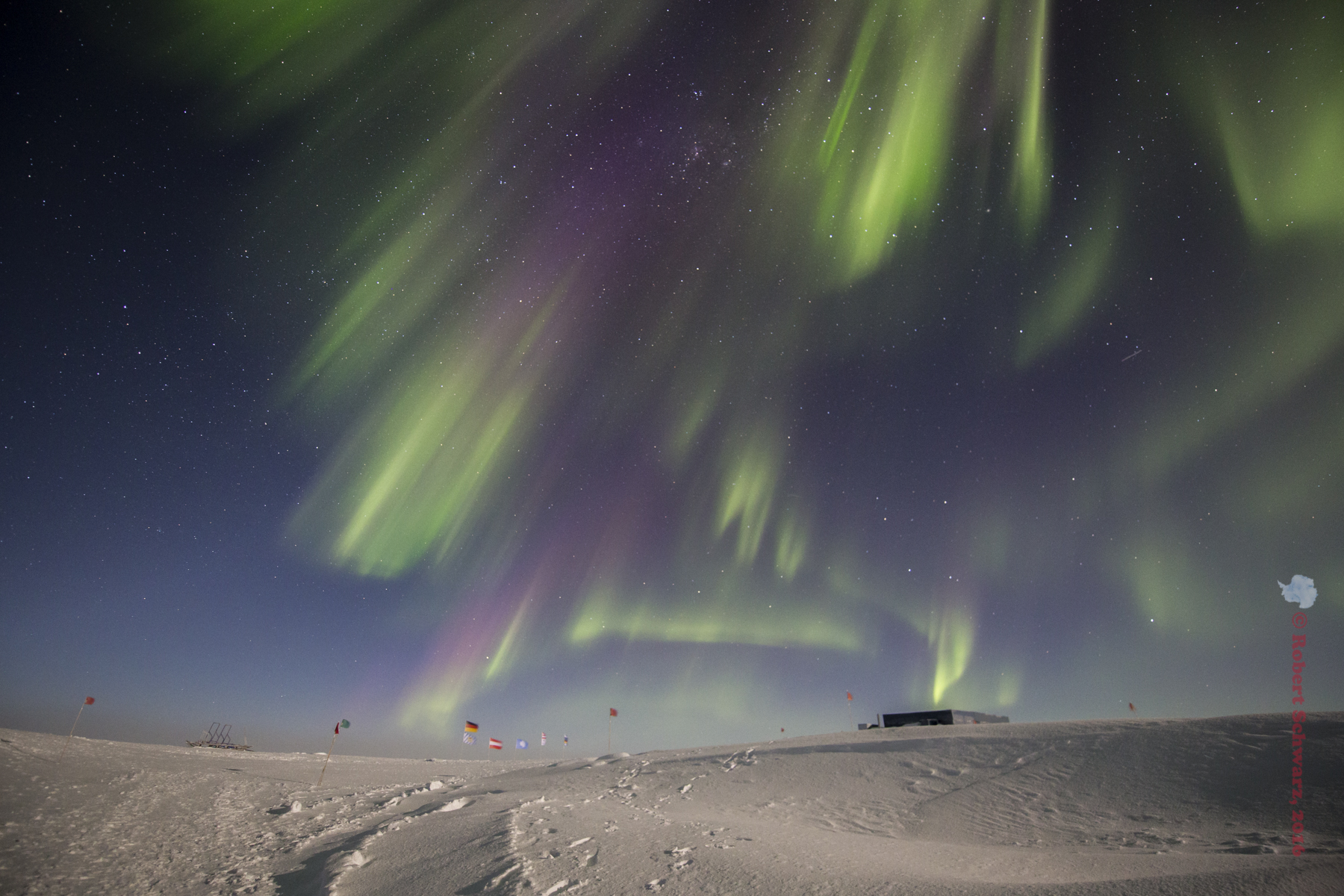 April 2016

20-04-16

Aurora season started, we are just about to leave nautical twilight but this morning the moon came back up again so it will quite bright again for the next 10 days before it will set as a small crescent.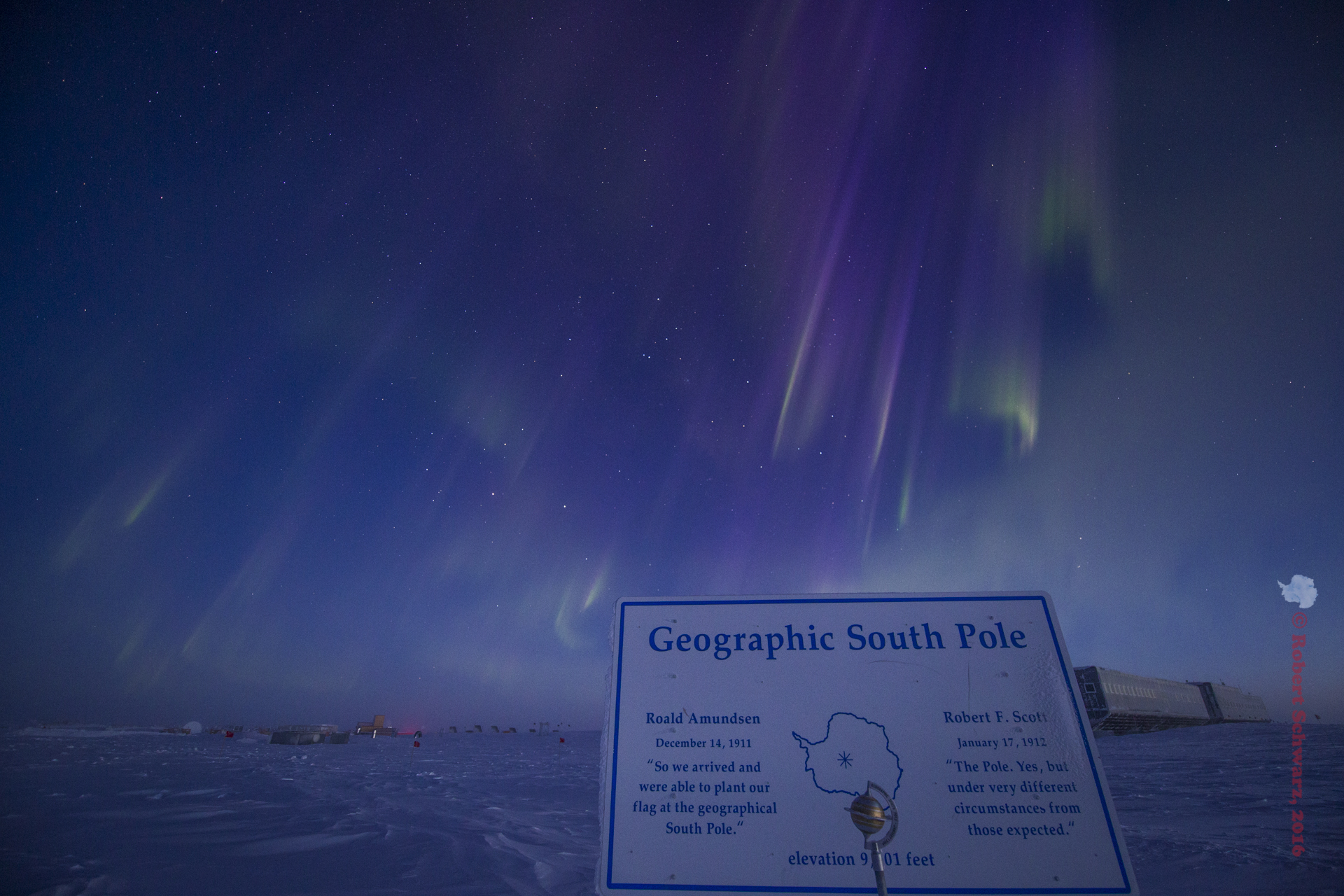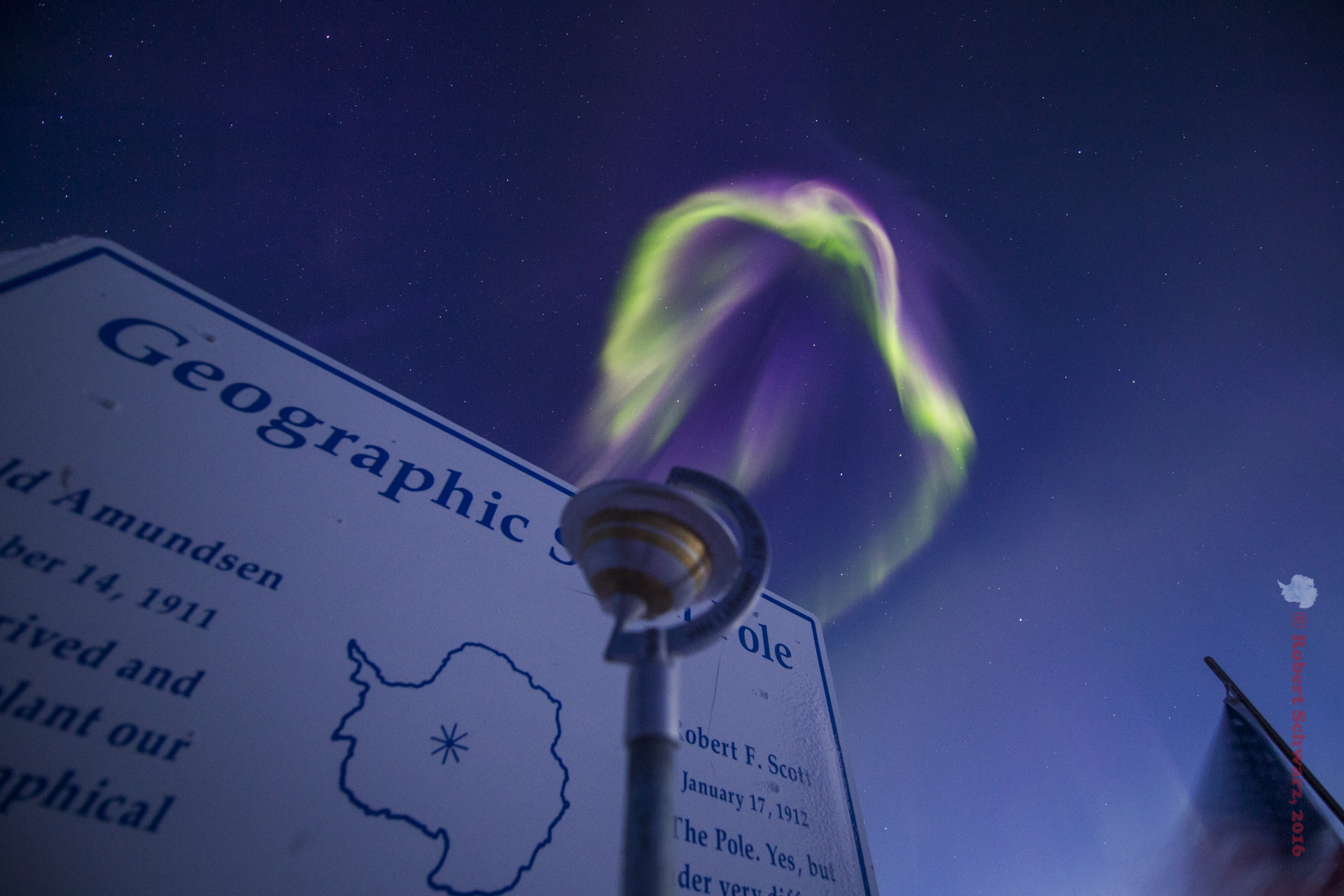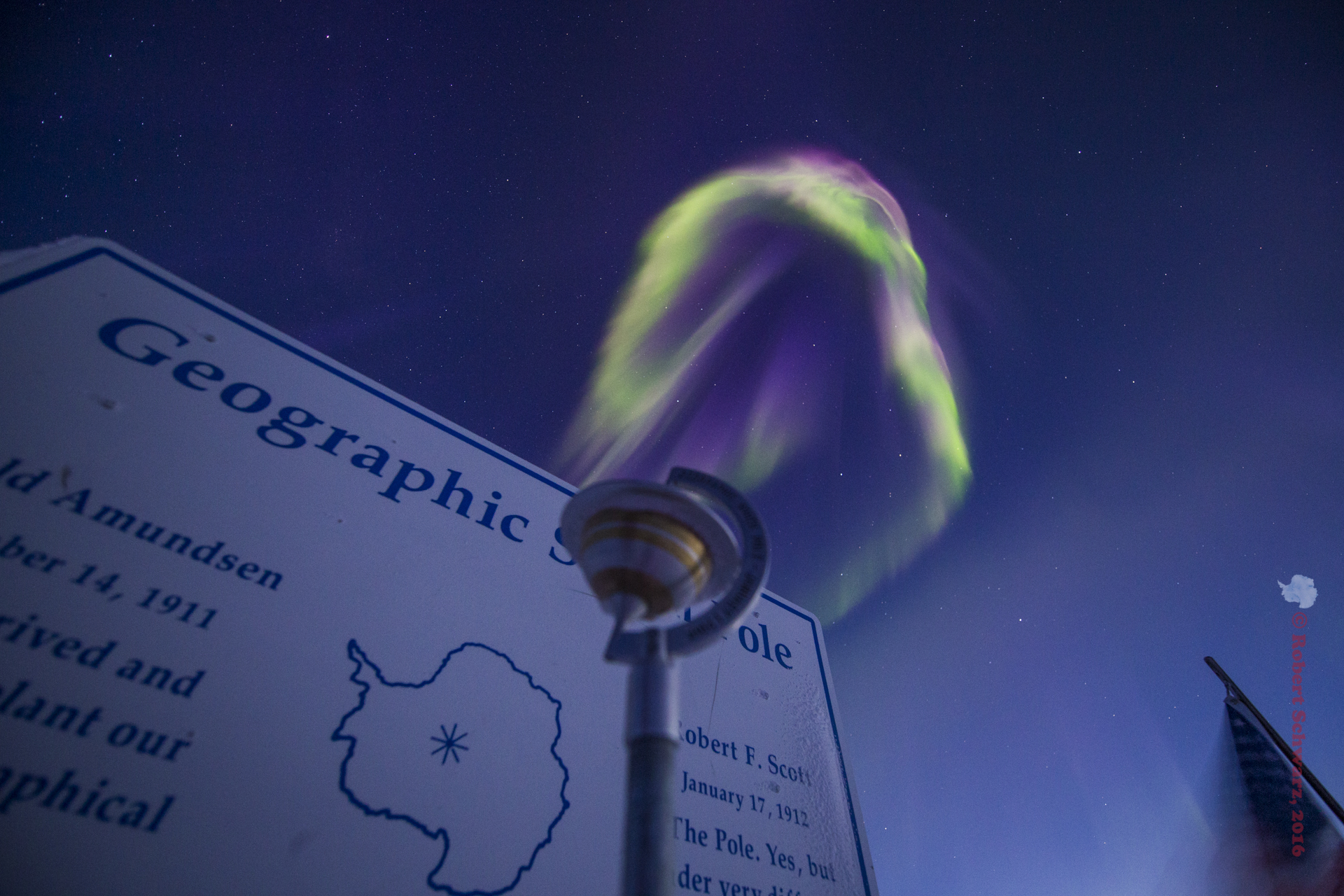 14-04-16

Last year I had the idea to take a 14 day time lapse of the moon (the moon is 14 days above and below the horizon) and see the changing phase while it is circling the horizon and changing it's position in respect to the sun.
I had several approaches to modify an old tracking mount (the new computerized plastic stuff won't work in the cold and I don't have one here either), just to be sure I ordered a ton of different motors, motor controllers, gears etc. A stepper motor with an Arduino was the final choice. Because of the exposure time, to see the actual phase of the moon, only the time right after sunset (or maybe again before sunrise) will work. The camera and mount had to work continuously for the 14 days at temperatures around -60&degC. I couldn't do much testing before, but it worked quite well - not perfect, twice the mount got stuck on the cables I had to rewind every day. Besides heating the camera, this time also the lens had to be heated so no snow would accumulate on the lens. I even put the camera and lens into a vacuum oven for several hours before to get any moisture out so nothing would freeze on the lens or sensor. I ran into that problem in the past when the camera was out for long times.
Also the moon will reach about 18.5&deg so the focal length i.e. the size of the moon is a compromise, choosing 70mm (about 22.5&deg horizontally FOV) it should give the full raise, but the exact alignment is very difficult even with a small display on the box which will freeze quite quickly as well, so the highest moon is unfortunately cut off... And of course the weather is a totally other factor and having good weather for 2 weeks straight is very rare down here but I still like the outcome, although there is room for improvement but see for yourself :)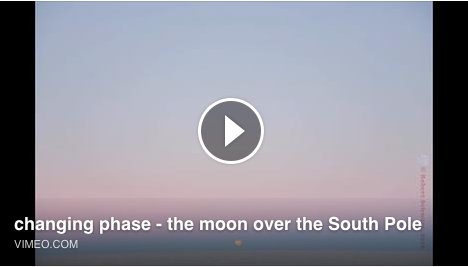 April 12th was Yuri's Night :), we had our party already on Sunday and it was a blast. The sky was in brilliant colors of the fading sunlight over the past weeks, but now it's getting about dark enough to see bright auroras.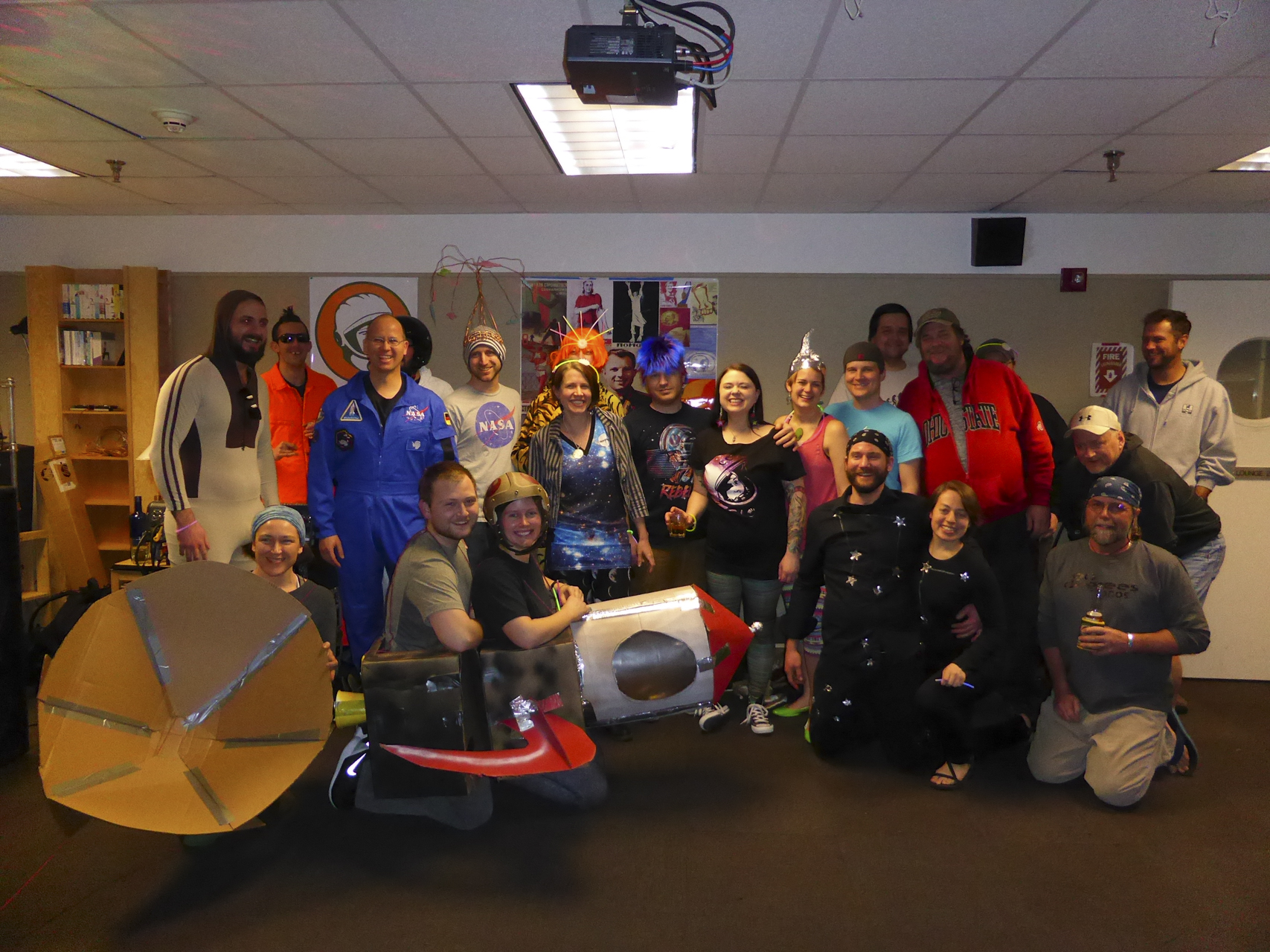 March 2016

28-03-16

The sun is gone, also we saw a refraction still last night, even with being 3° below the horizon. We got our open house in the dark sector yesterday and the first 2 stars (Sirius and Canopus) are visible - if you know where to look ;).
Some pictures of the telescope around equinox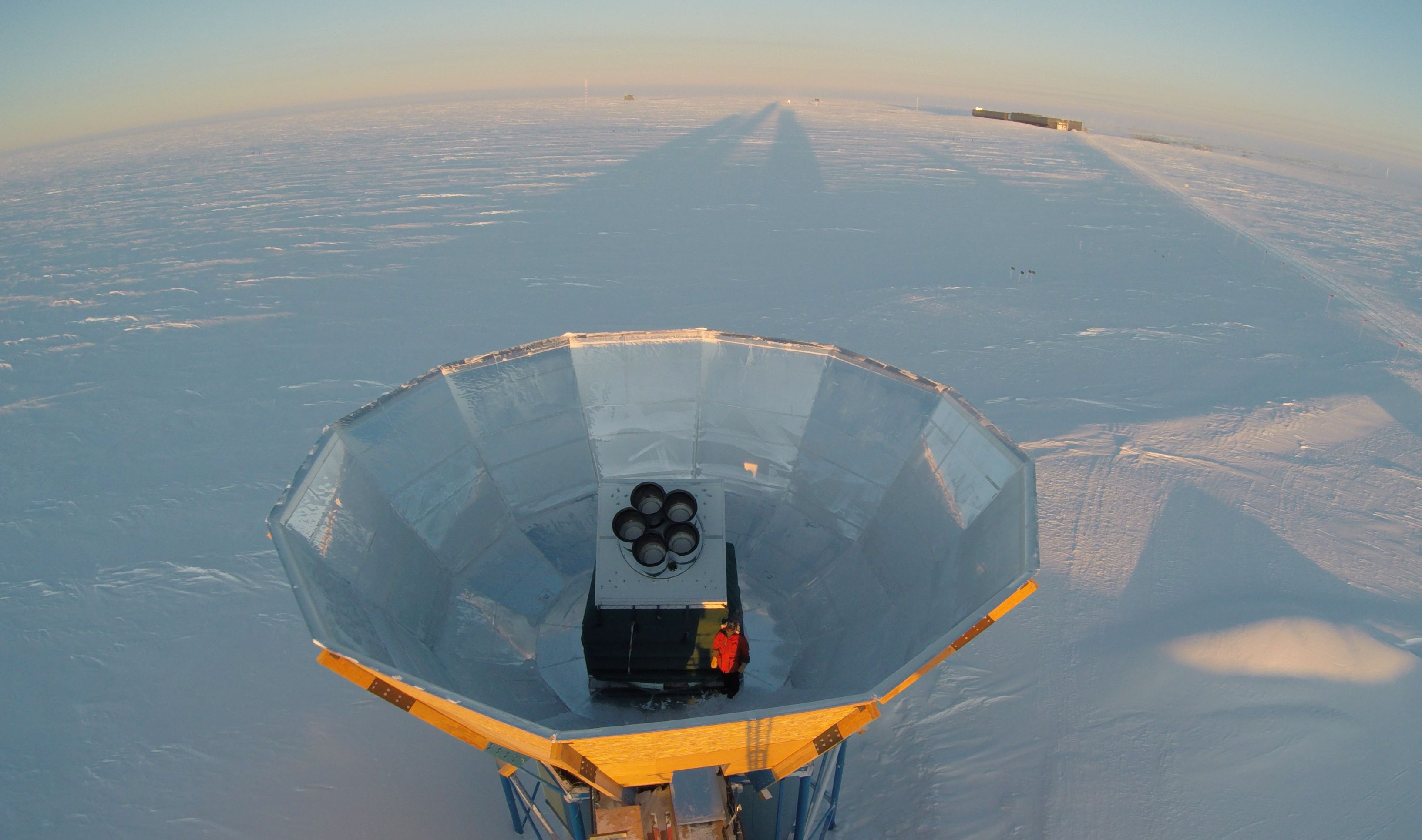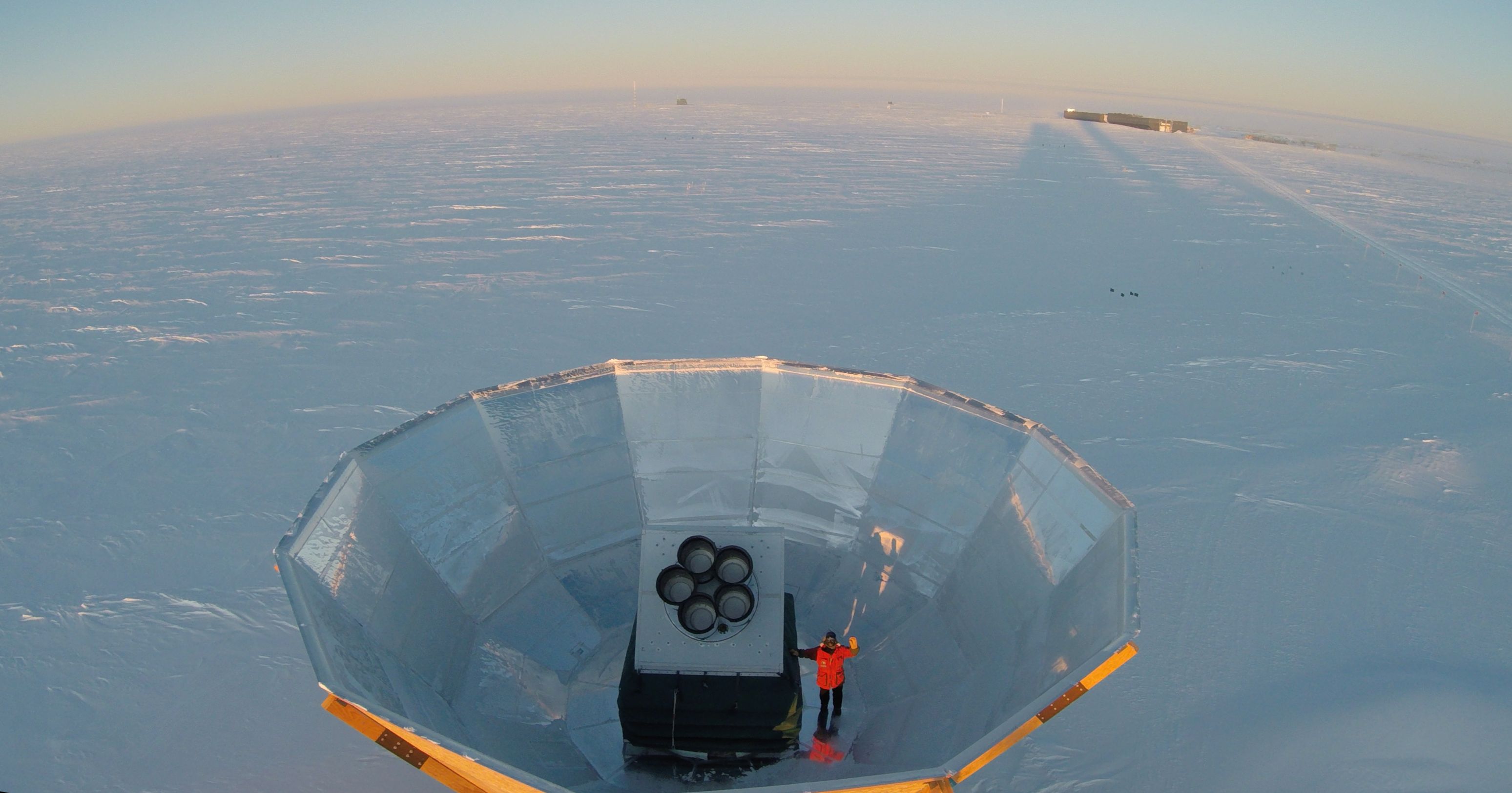 18-03-16

Winter is in full swing, the sun is about to disappear, less than 1&deg over the horizon now. The last week we had beautiful weather but therefore it is quite cold and that didn't help with taking down the mirrors on Bicep3 and our telescope and getting them ready for CMB observations, a lot of work outside.

There are also some blogs and websites from fellow winter-overs and of course the new winter-over statistic on Bill Spindler's website

09-03-16

Started one of the few photo projects for this year. An eight months time lapse looking mainly at the sky. With some foreground as well. That has quite a few challenges to keep equipment running for so long without moving the camera box, i.e. bring it back inside etc.
Another project is starting around sunset a 2 week time lapse of the moon, where you can see the phase change while tracking the moon. For that I have to modify the tracking mount to track the moon, best approach will be with a stepper motor controlled with an Arduino board.

February 2016

26-02-16

The Twin Otter and the Basler left the Pole yesterday for Rothera, have a good flight. So now no more planes until October, not even the small ones for refueling




23-02-16

A few hours ago the last Basler and Twin Otter left. Now no more planes until October, the Twin Otters and Baslers will be the first ones coming through again, they can fly in much colder conditions then the Herc because of the lack of hydraulics

Ok, I take it back both planes returned to South Pole after being on the way for five hours, the Twin Otter got a lot of icing, which is very rare in this cold and dry climate in the middle of the continent and the Basler got hit by high head winds.

16-02-16

Today the last six summer people left. Yesterday, the plane boomeranged after the visibility was too bad and it didn't get better during the 90mins id circled above the South Pole. A few hours before or a few hours later it would have been possible.
Today they really was a touch and go, the plane was only on the ground for less than 15mins. they really wanted to get out of here.
Now we only will have one Basler and Twin Otter that will be here for fuel and a night or a few, depending on weather, but with the last Herc the winter begins.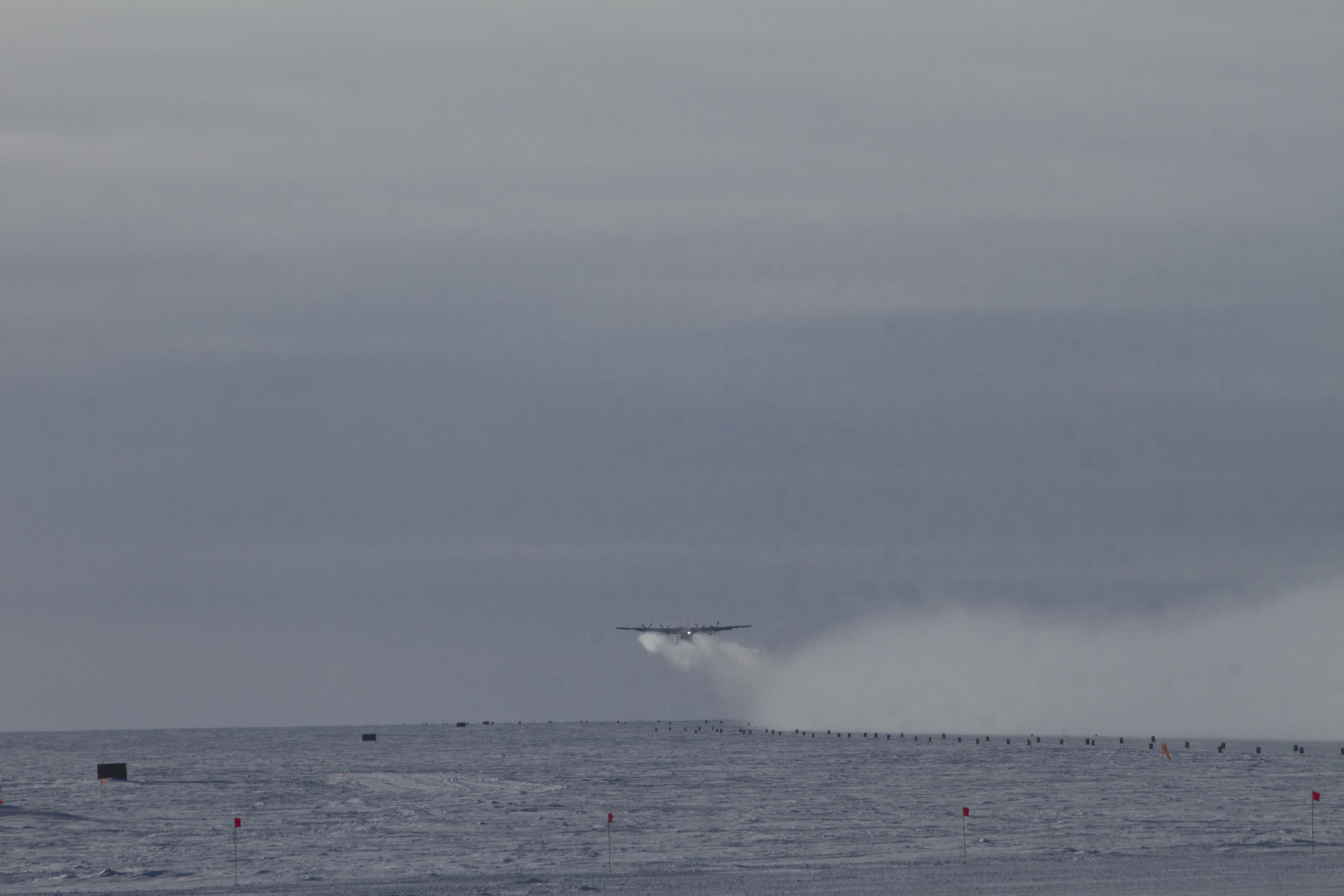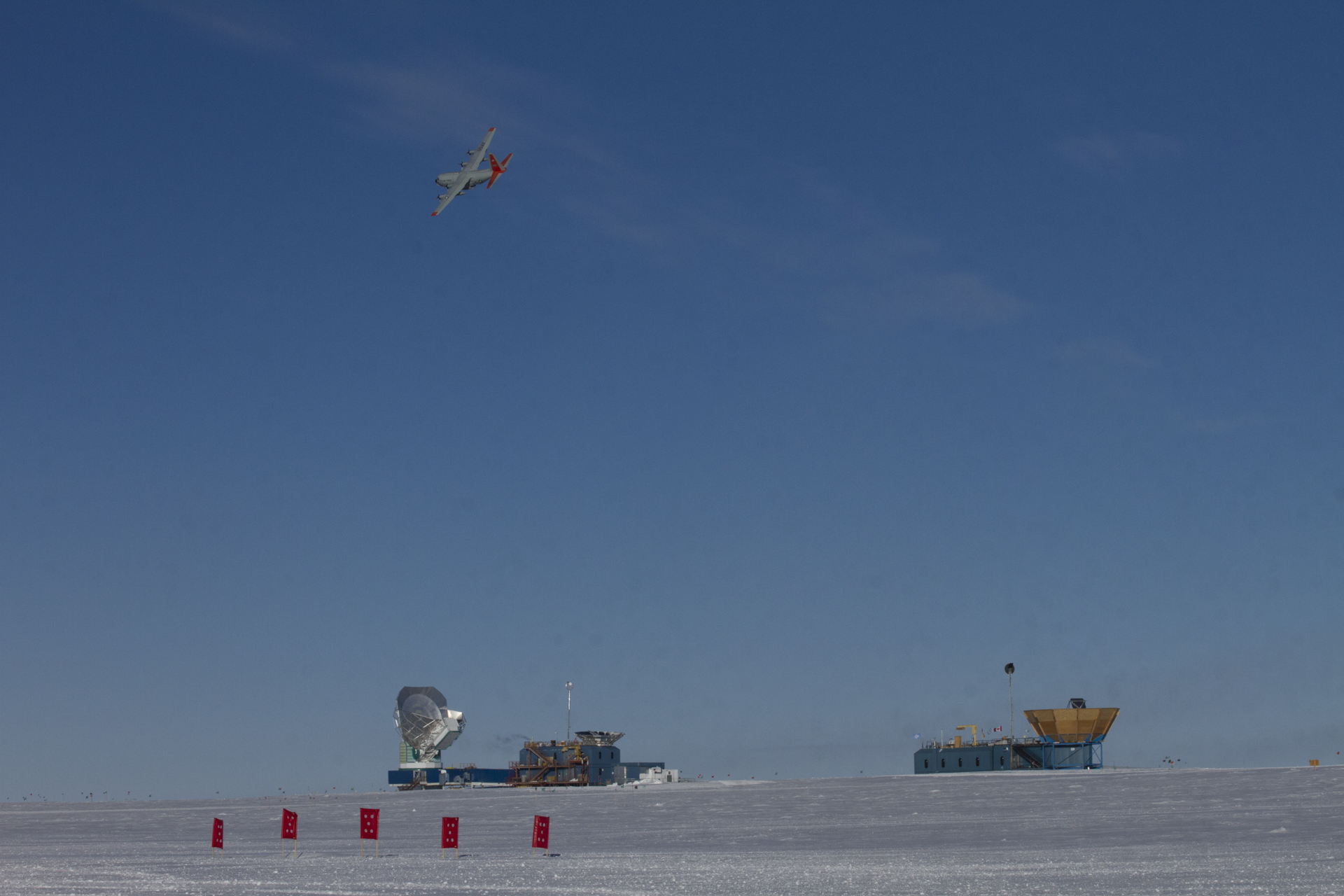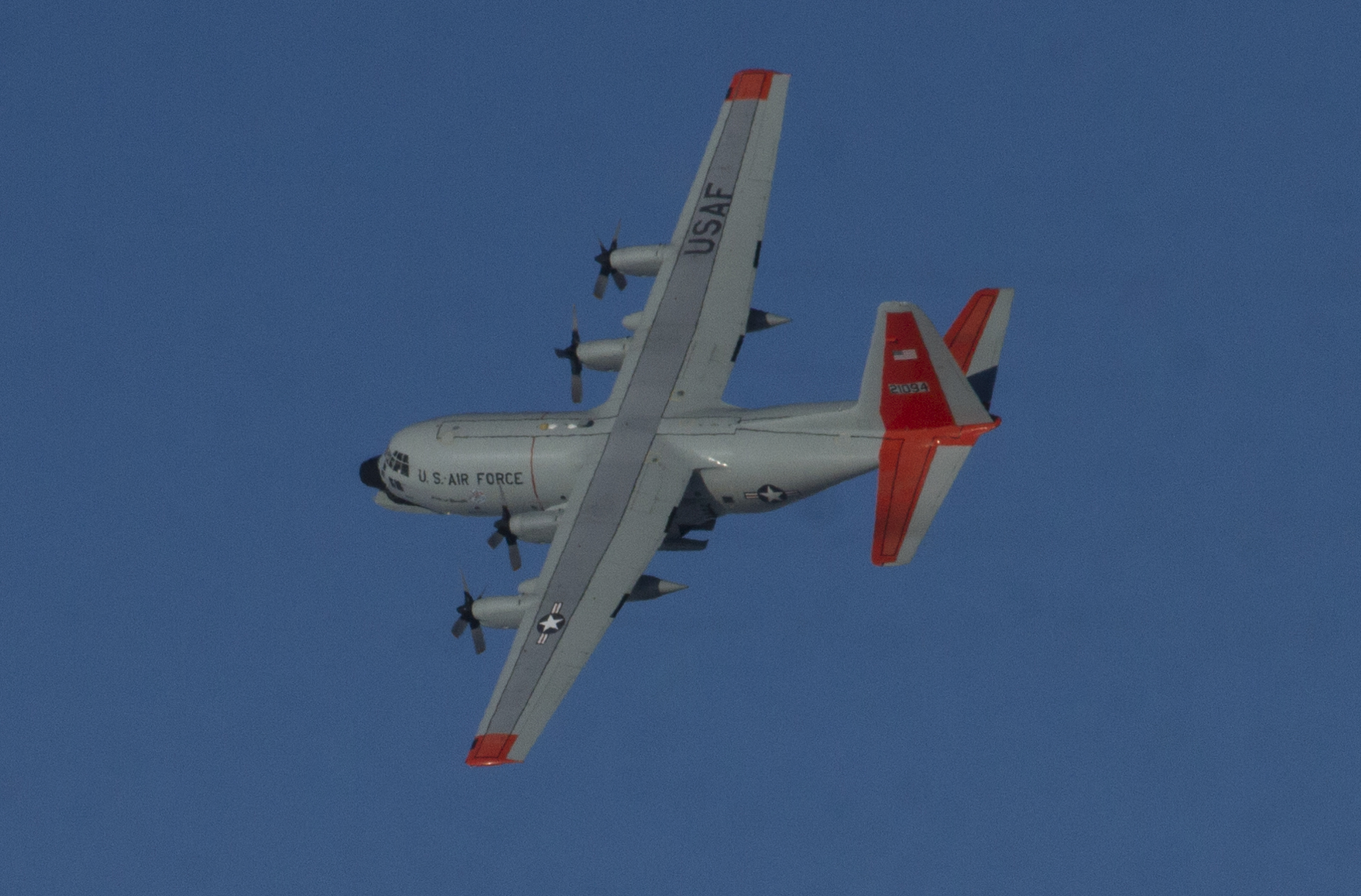 Back at the Pole, settling in and last minute stuff on the telescope. When I got here 2 receivers were still in the lab, but now we got a running telescope and are already doing beam mapping. All the SPUD, Bicep summer folks are gone since Saturday.

04-02-16

Two days ago I got into Christchurch, New Zealand, after 24h of flying time and 36h on the road. Today is the flight to the ice, goodbye summer.

0530 wake up, getting last minute downloads for my apple stuff since the app store is blocked on the ice, breakfast, last fresh milk
0730 check in at the CDC (Clothing Distribution Center) we change in our ECW gear (Extreme Cold Weather gear) although the forecast for CHC says +31&deg C today. We get our bags ready and go next door to the "terminal", our bags get weight, so do we with our carry on.
0830 now we watch safety videos about the aircraft a LC-130 a Hercules and the safety and emergency procedures
0930 was transport time, but got shifted to 1100 so since we didn't go through security yet we can still go outside, glad I can still access my CHC luggage and change back to shorts and flip flops, much better than the gear I would wear at the South Pole.
1100 report back to "terminal"
1124 transport to the plane, i.e. we board a bus and drive about 300m across the road into the airport and take our flight lunch at board the Herc
1137 we are settled into the canvas webbing seats and all engines are running, we do 50m circle and the front door opens again, after the load masters looked at the air vents. Two mechanics come aboard, we are told they need to switch a valve because the air conditioning is not working, remind you, we are still in our ECW gear outside the plane it reached the 30s&degC and inside it's quite a bit warmer. We can leave our carry on and parkas, flight lunch, etc. on the plane, we get a bus ride for 300m again aback to the CDC. Since we went trough security we are not allowed to leave the area any more, a little locked courtyard or inside, taking the big boots off helps a bit and strip down the big pants as well. One hour after the other passes. After about 3 hours, they get us some more flight lunches since ours are sandwiches cocking on the plane in the sun and we can't get to it
1535 we are back on a plane, after our short 300m bus ride, this is another plane so they moved the pallets, cargo, our parkas and carry ons etc to the other plane, we settle down again, engines start, this time we don't even move, there is a problem with one of the engines, they tell us we can leave everything on the plane, will take just one hour - oh my didn't we hear that already ;)
1600 we are back at the "terminal" so far we traveled about 10 times as much on the bus going the 300m distance then on the planes ;)
1705 one more hour !
1755 by now they actually fixed the first plane we were on, they moved all the cargo, our carry ons, parkas, etc. back to the first plane
1809 we are back on board the first plane, same seats as about 7h earlier
1827 take off, since we started in the evening in NZ and flying South, we had a sunset that never made it ;)

We got into Williams Field at about 0200 and into McMurdo at 0300, I went right to bag drag, i.e. check in with all my bags again - figure that it was still the same weight as a few hours before in CHC. Transport time for the Pole flight was in less than 5 hours, so no need for a room and bed. I went down to Hut point and then was hanging out in the galley. It was kind of a straight through ;) I actually liked it and prefer that to a night in Mctown.