Heading South and last days of Summer

Sunset

Auroras 2017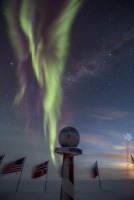 November 2017

14-11-17

Flight is canceled again. I don't know for what region they do their weather forecast, but it can't be for down here, because the forecast and the actual weather is so far off or they reached a new level of incompetence.

The panorama below is from yesterday, when they canceled all flights due to our weather, can you believe it. A bit more high clouds today but not bad at all and no flights.





Actually now the wind is picking up and more clouds are moving in, but Meteorology 101 says "if you wait long enough the weather will turn bad".

14-11-17

I wish I would be back at Pole and it would be February, because I wouldn't need to go anywhere for 9.5 months. As of now I'm stuck in McMurdo, already missed 50% of my summer for 2017 and now even gonna miss my connection flights to Sydney and tickets to the opera, I was really looking forward to for months. Going to the opera in Sydney was on my agenda since 1990 when I was first there and all the times I passed through there, but I never had any good clothing, so this year I was planing a 4 day trip out of Christchurch.

Antarctica is a harsh continent and save flying depends very much on the weather here, no doubt about that, but if you have multiple good weather windows of 18h or more and you still don't fly because of beauty sleep for flyboys or DVs or because you wanna watch your football team live on TV it's getting more than annoying fast.

You don't wait for the four things to happen unlikely all at the same time:


good weather
good weather forecast
your scheduled flight time
you actually wanna fly


So that is the frustrating part, everything is so flexible as a bundle of railway tracks, same for the USAP and that is the even more annoying part, there were two Northbound flights since we got into town last Wednesday, but it would have been a logistical master piece to put 3 more people and their luggage on an nearly empty C-17 last Thursday going to Christchurch, only 18 hours is really a short notice for that! And then there was a LC-130 going North on Saturday with only 2 passengers, the NSF rep left in a hurry on that one, but us who spent the winter in Antarctica and do the actual work down here we are of course not important enough!
Sorry for the rant ;)

I hope that was the last post here until February, since I get to NZ soon, see you all next February on this site :)



09-11-17

The first Herc arrived on schedule on Nov 1st, after a spearheaded Basler flight on October 30th. Station population doubled already and 3 lucky winter-overs made it out, because the next few flights all got canceled due to weather, mechanical problems or sick crew, sounds all quite fishy if you take into account they have to fly during world series play offs etc ;) so quite a number of unhappy winter-overs got stuck for a few more days at Pole. And if you wait long enough the weather will turn bad !! Yes that is my meteorology rule 101 ;)
The next storm was coming in, with a brief weather window yesterday, so three of us scheduled to leave today, were put on a Basler. Never flew on a Basler so that was awesome. What a difference if you actually got windows to look out during take off and landing. Unfortunately the weather over the Transantarctic Mountains was bad so instead of flying through them we flew quite high at 6000m under oxygen, since the cabin is not pressurized.

Exodus of most of the winter-overs, goodbye, was a great winter with a great crew.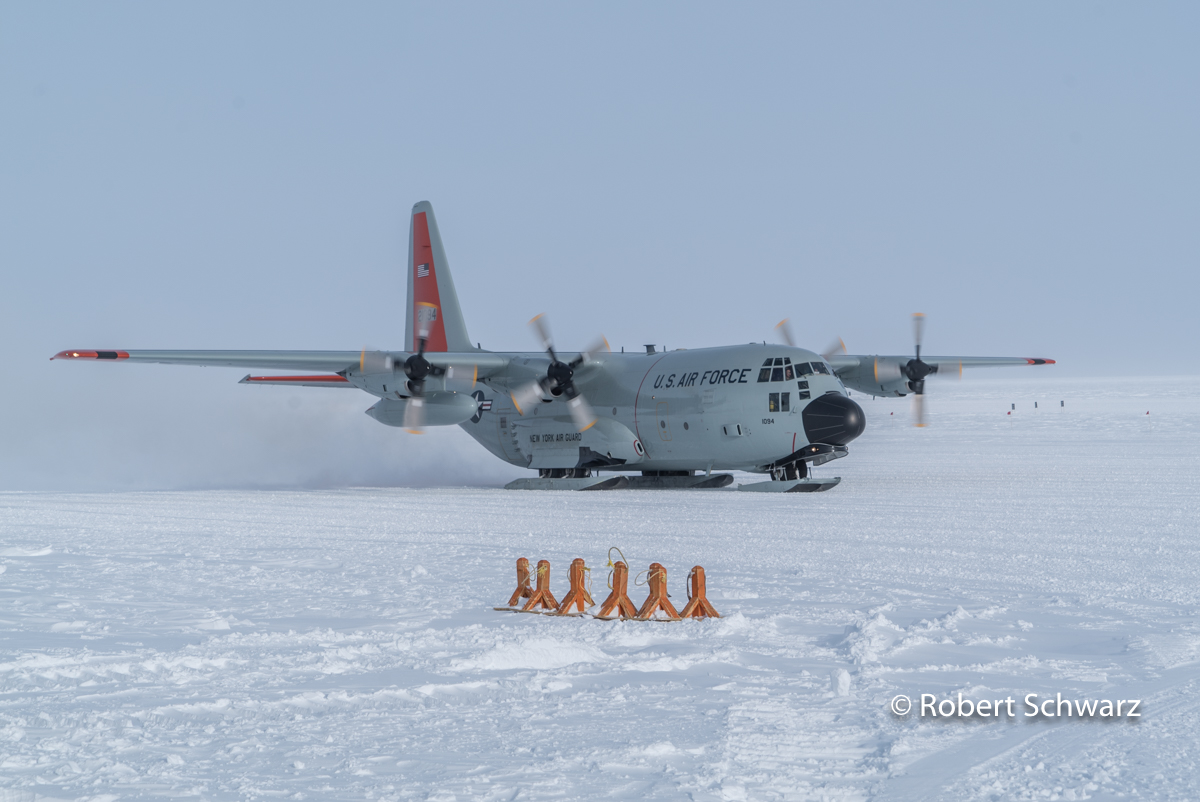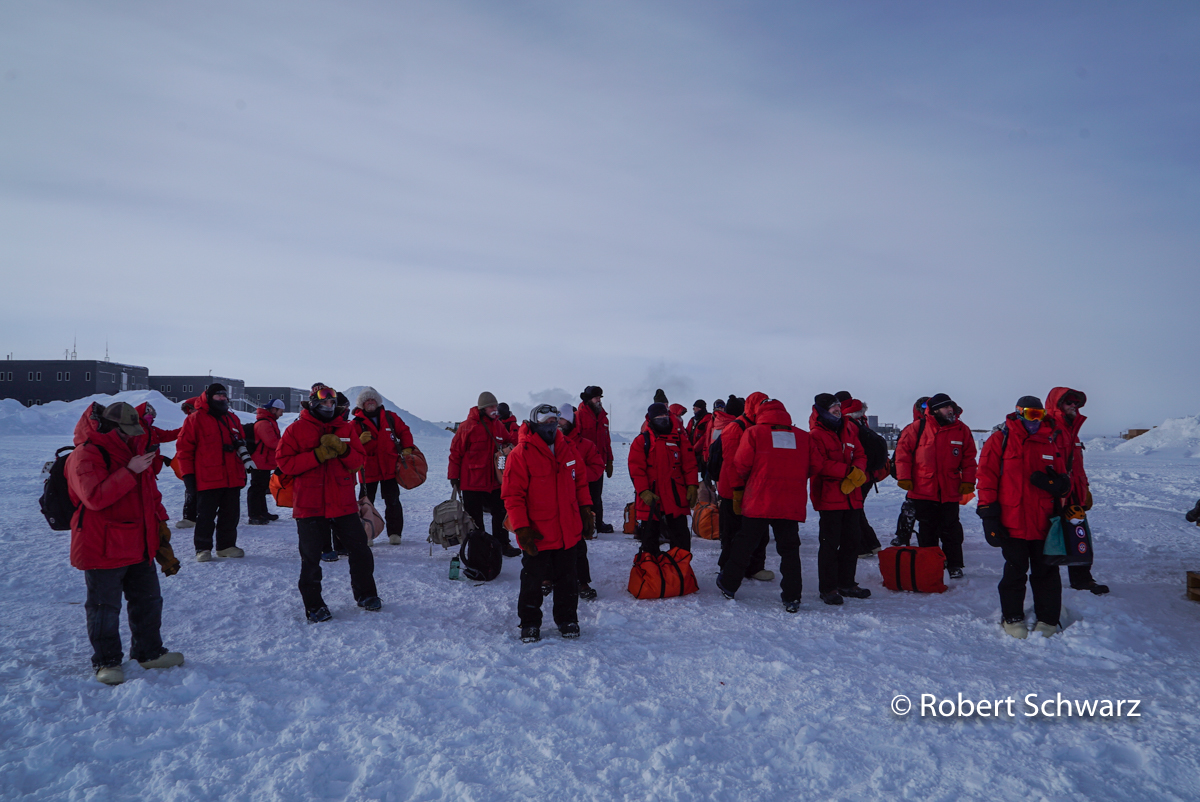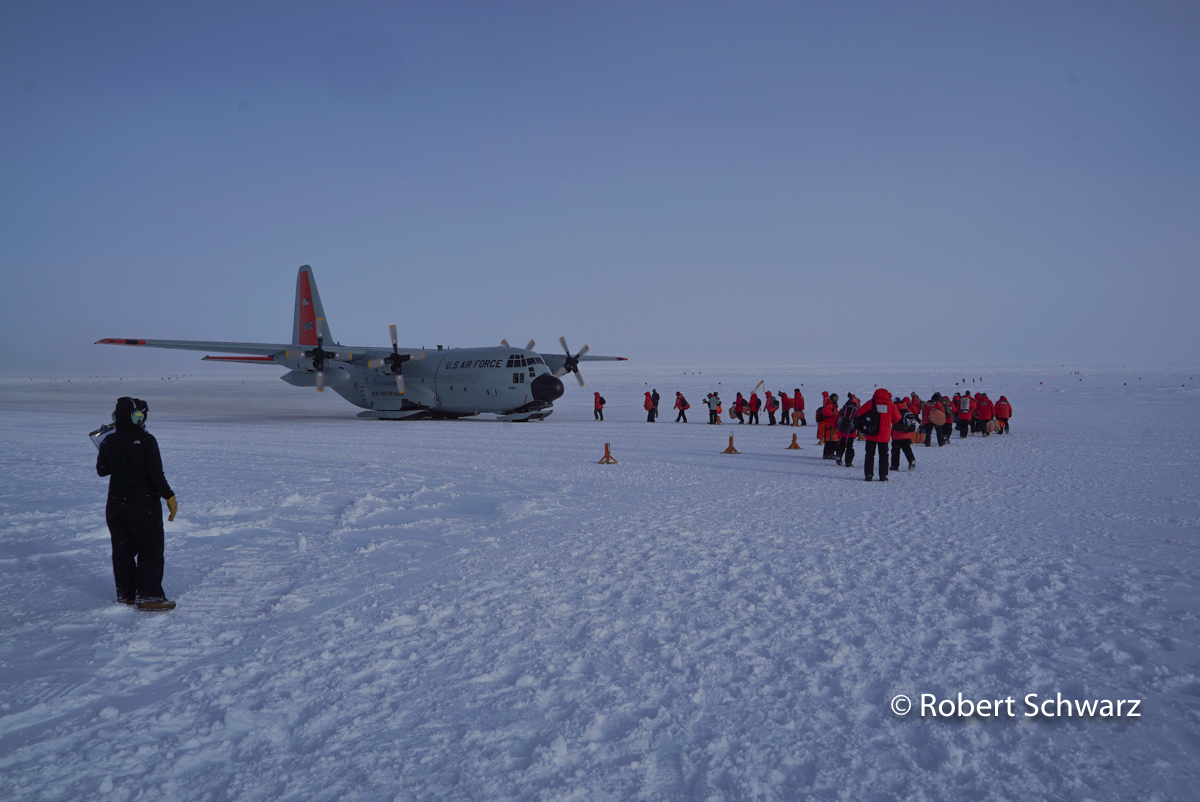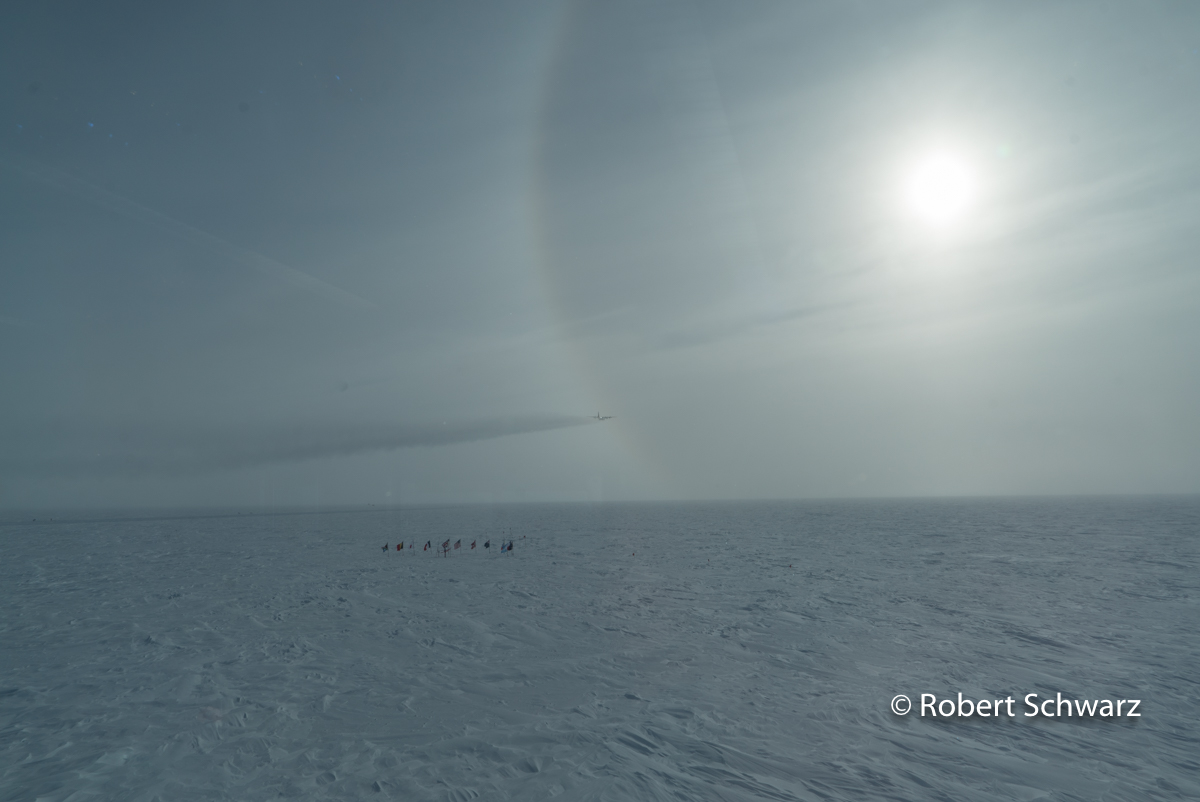 My first Basler flight ever :) Nice to have windows, goodbye South Pole - home away from home.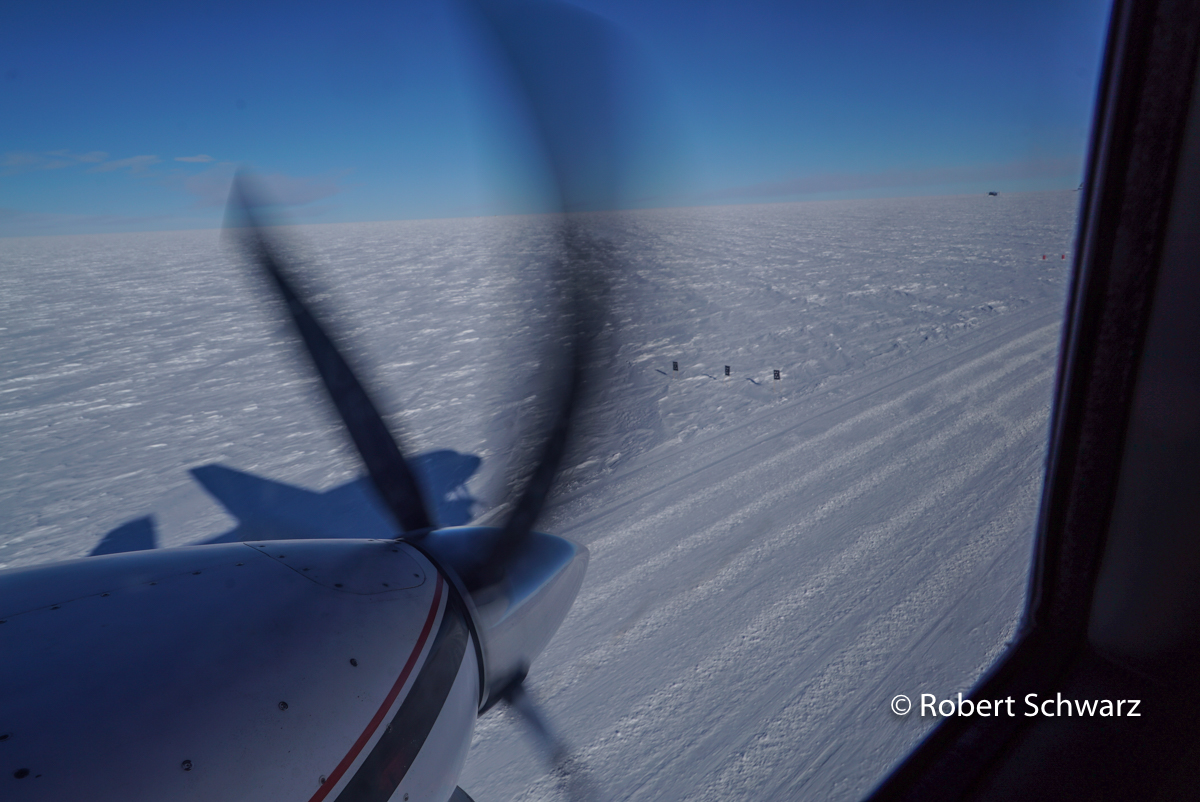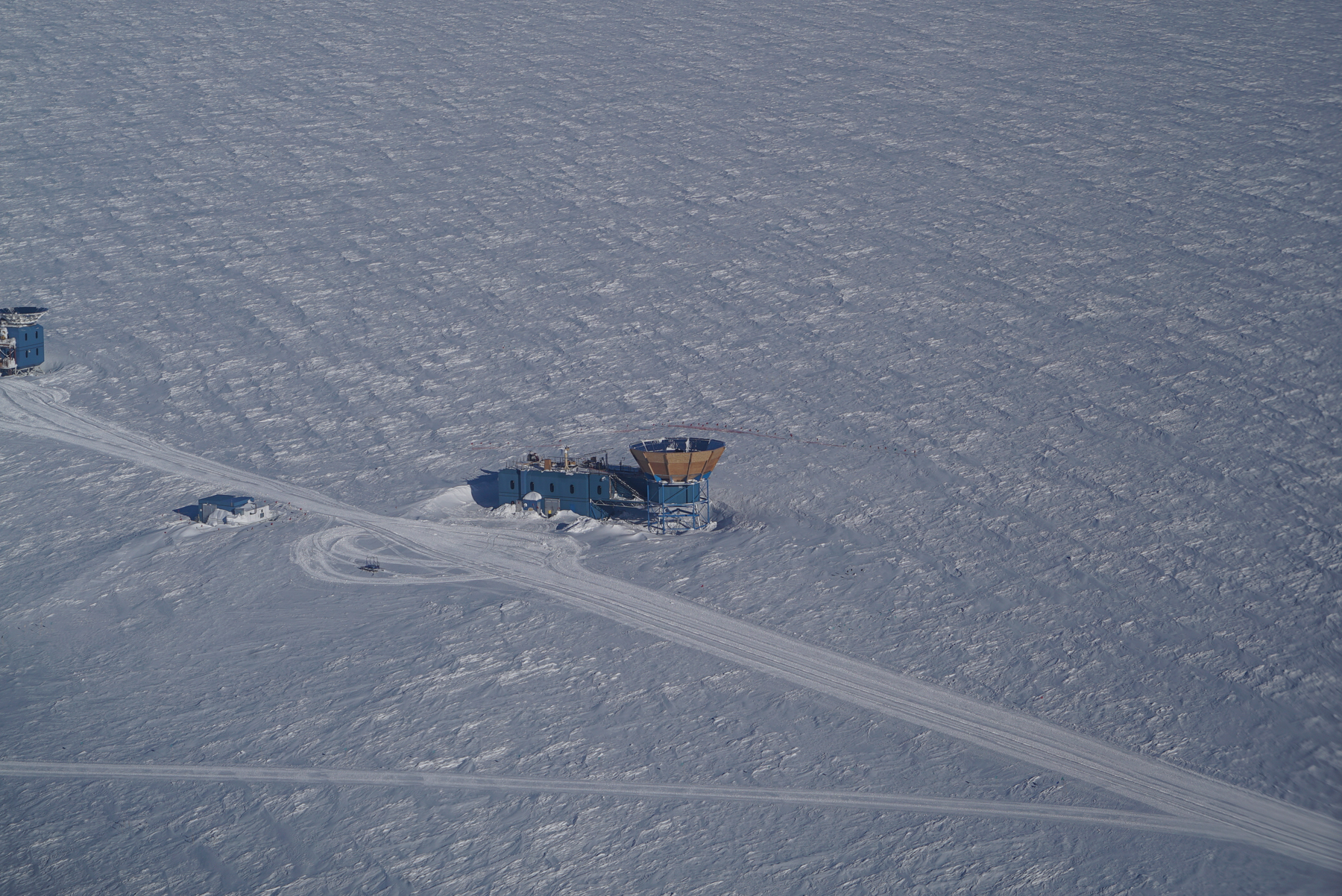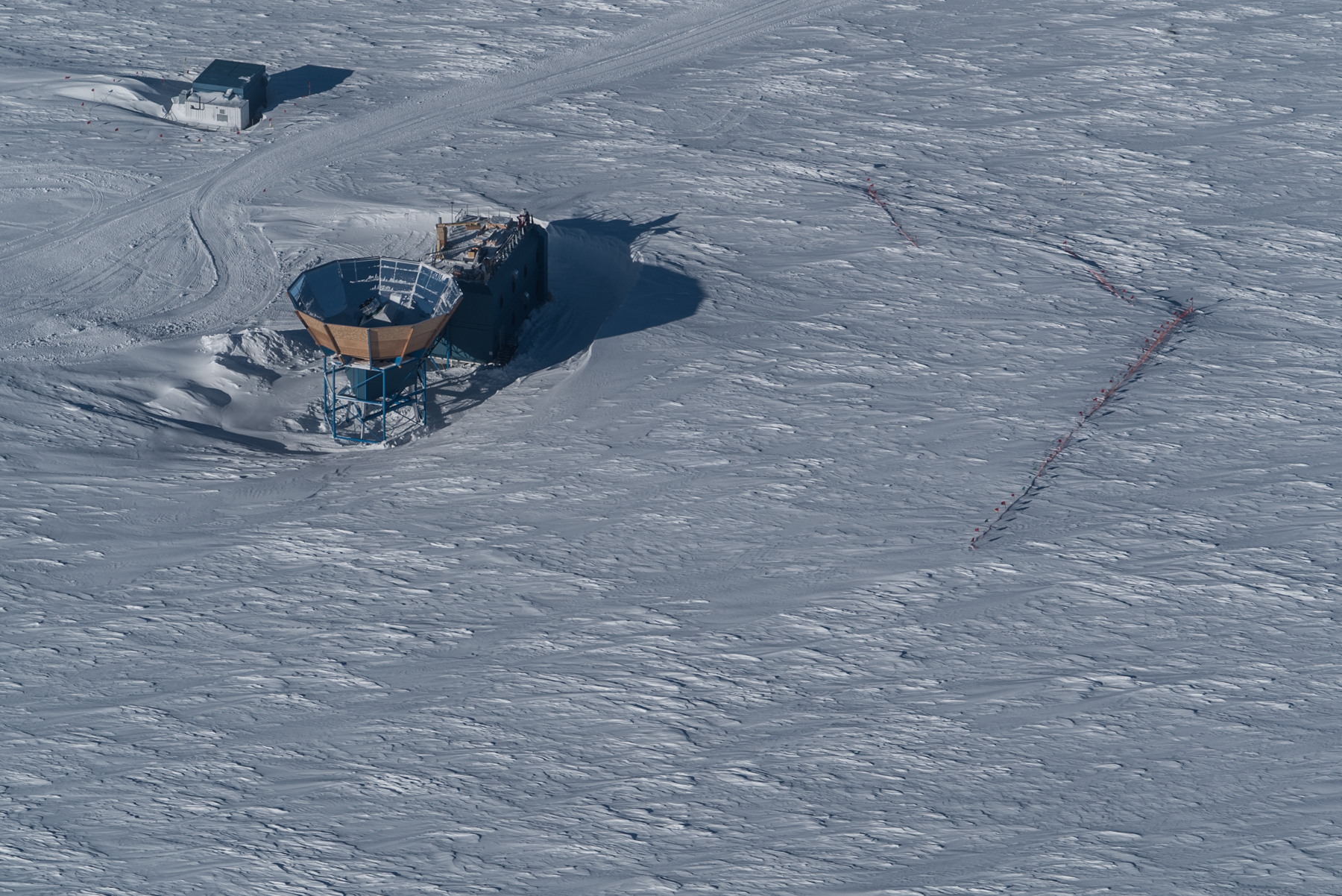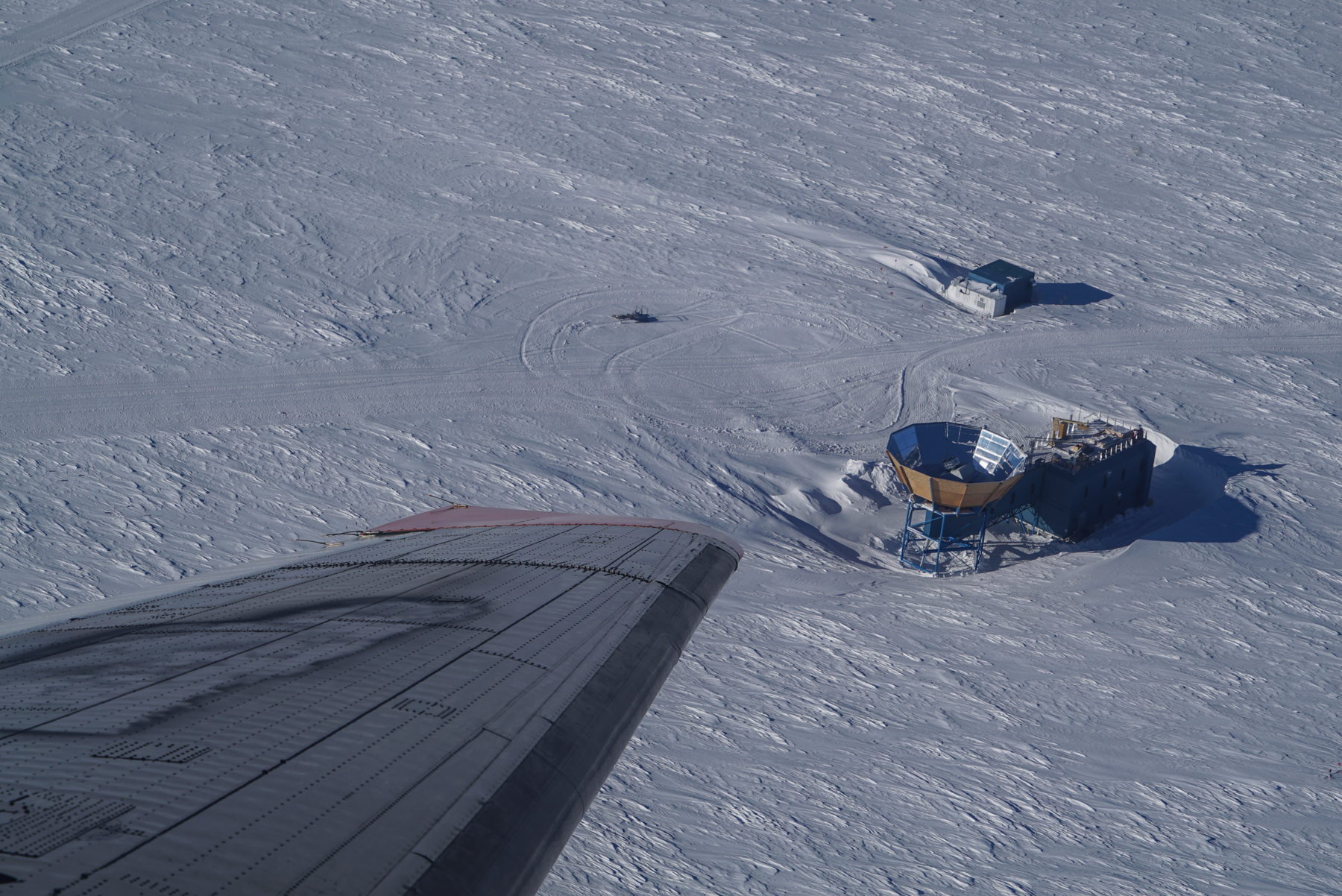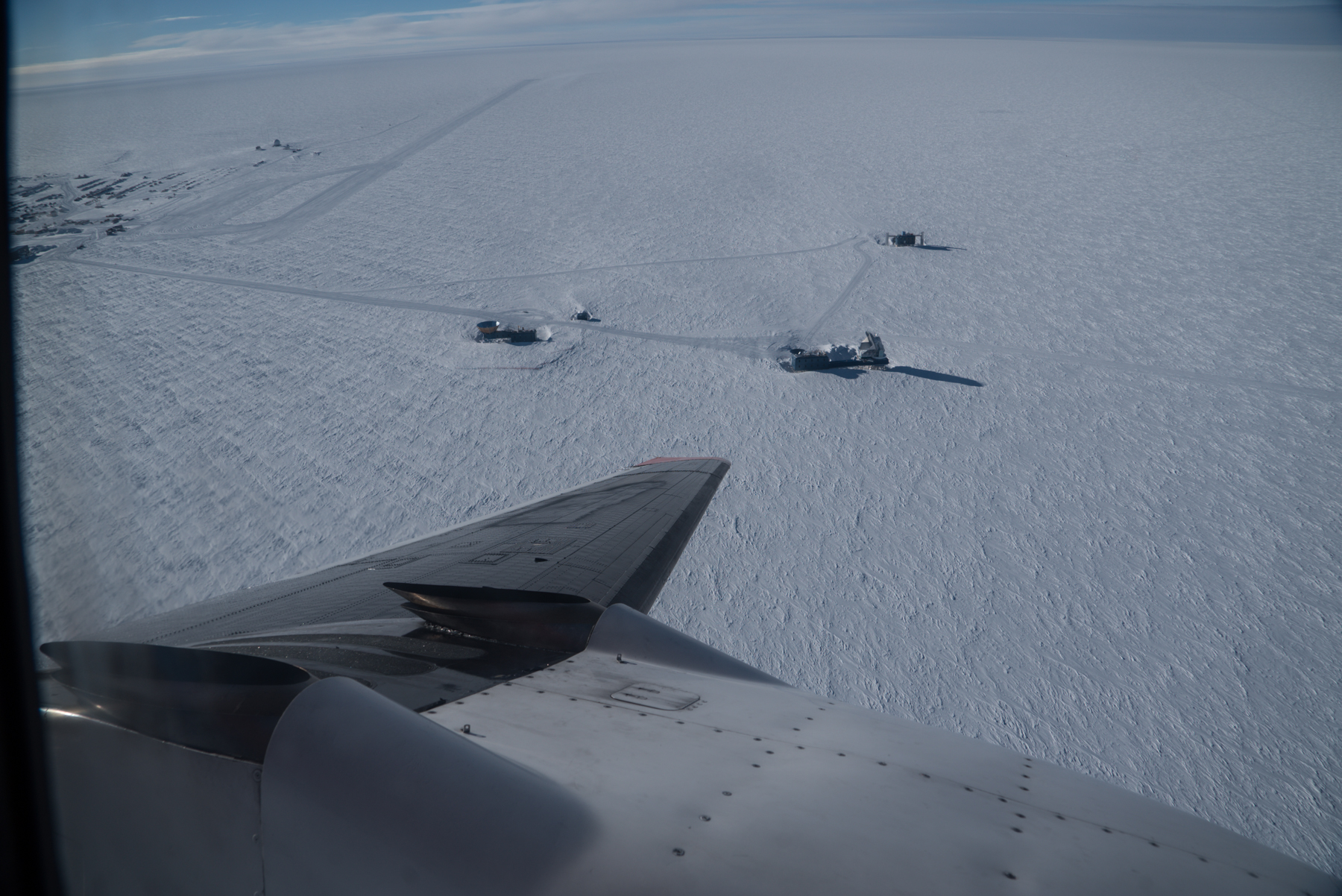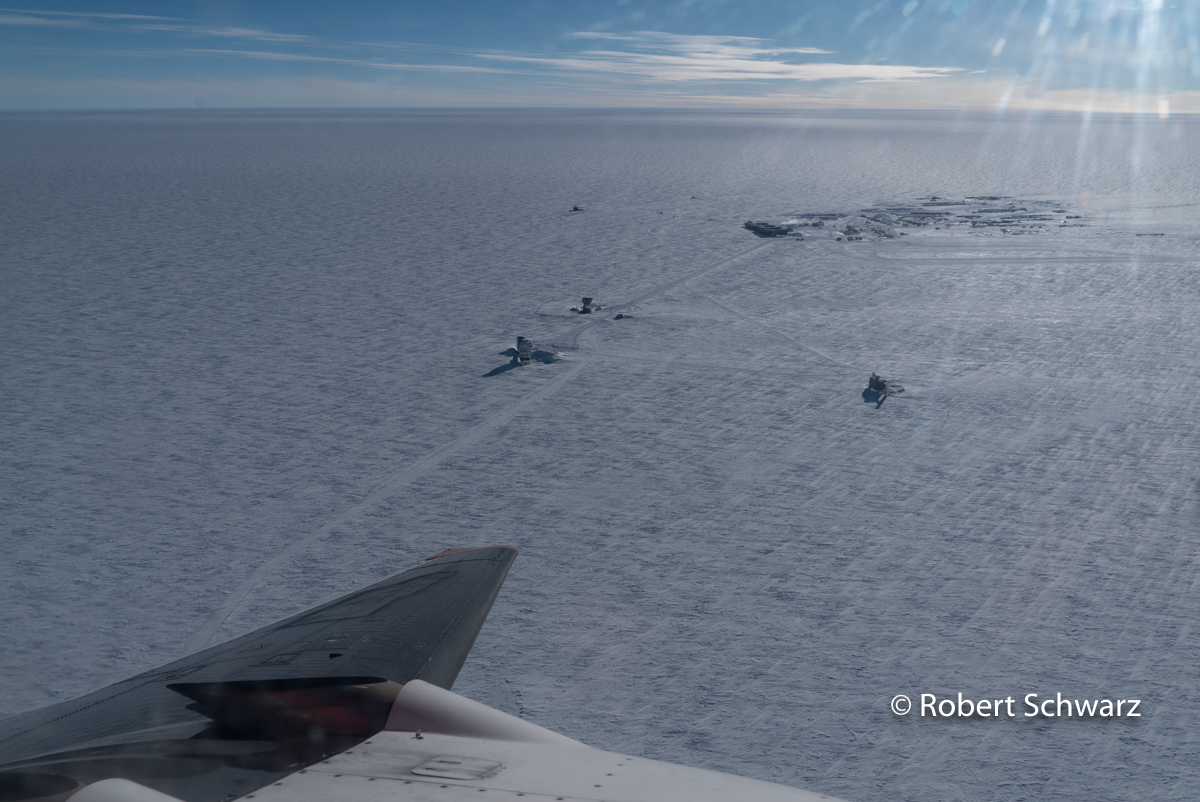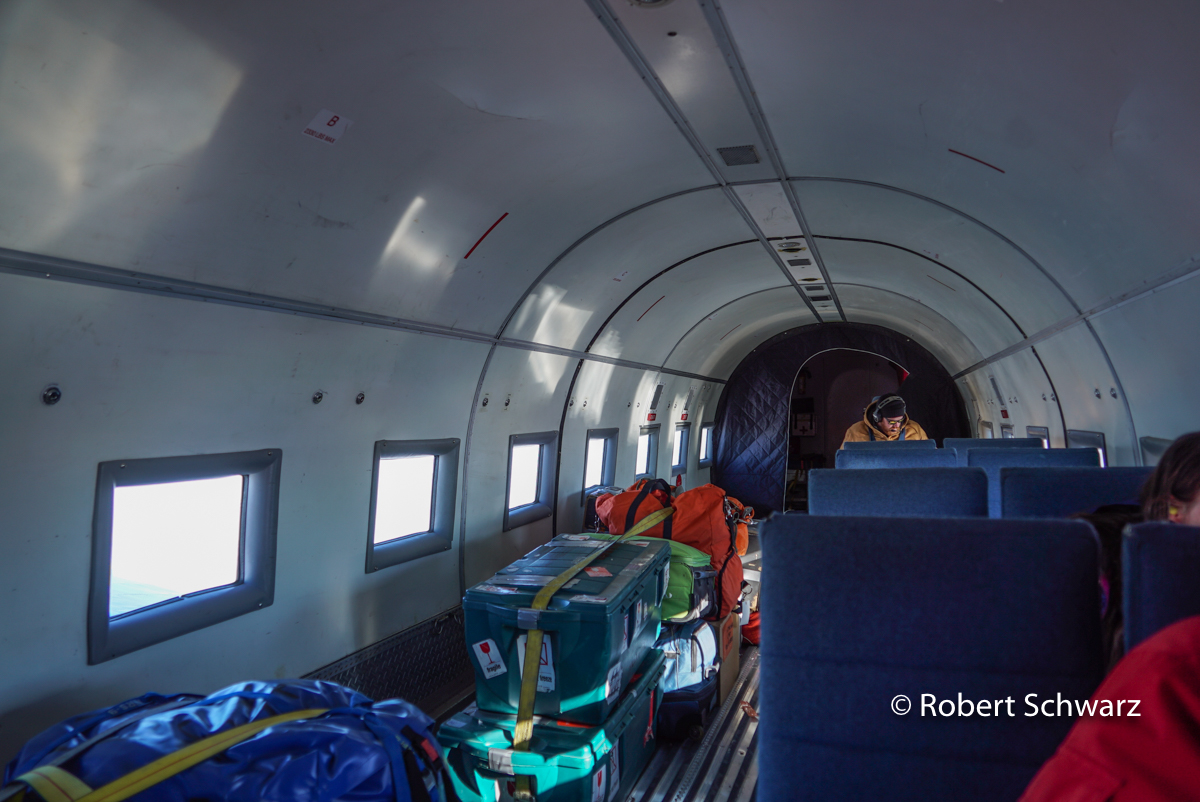 October 2017

25-10-17

So on Sunday we had the first 2 KBA planes fueling up here. They brought some very welcomed freshies, the Basler was only here for 30min, the Twin Otter had to stay overnight for crew rest. And took of yesterday. The frist Herc with the summer people is scheduled for Nov 1st, invasion day, that is how it feels like if the population after 8.5 months suddenly more than doubles.
We has some nasty wind and lot of drifting in the past weeks, lots of shoveling as well and packing and cleaning, so the last weeks are always very busy.

And make sure you watch the aurora video below, it deserves way more views, turn off the lights, relax for 15 min and enjoy :)

08-10-17

If everything works out I should be in NZ in 5 weeks. But there is always weather and broken planes ;)
The sun is nearly 6&deg above the horizon, but we had pretty bad weather with two of the worst storms for the season, nothing what the coastal regions get, but 40+ kts with -50C is still quite nasty.

Finished the aurora movie for 2017, turn off the lights relax for 15min and enjoy :)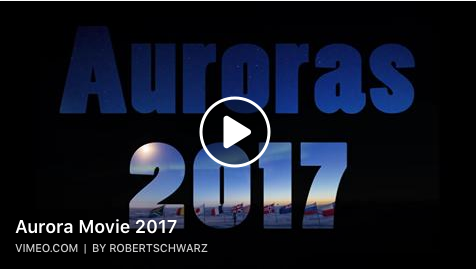 And another one from around midwinter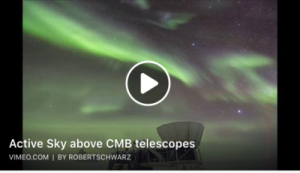 September 2017

21-09-17

The aurora movie 2017 is mostly finished, but I finished some more time lapse movies, here is one from August 13 and 14. August 14 had some of the best auroras I have ever seen, but the whole 24h were pretty active as you can see in this movie ;)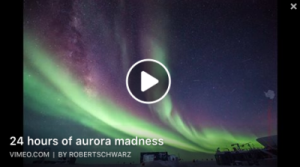 20-09-17

Two days ago we saw the first refraction of the sun, today it's still one degree below the horizon, but if the horizon would be clear we definitely would see it. This picture is through the galley window.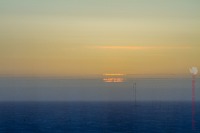 The twilight was good for more ozone balloon pictures.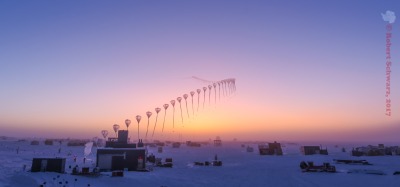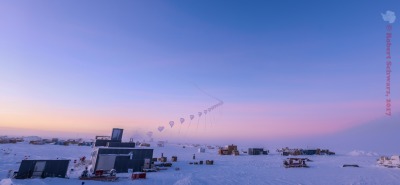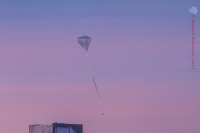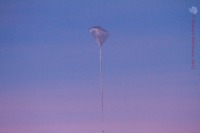 Looking opposite of the sun you can see the Earth shadow in the atmosphere. Here pictures of the dark sector buildings.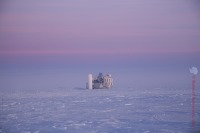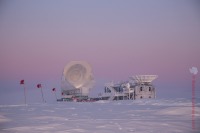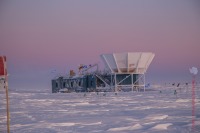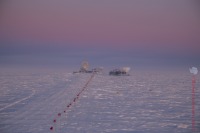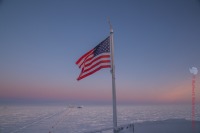 The ceremonial Pole just before sunrise.




10-09-17

Every winter we have the WIFF - WInter Film Festival, there is an 48h and open category. In the 48h one you get 5 elements that have to be included in the movie and got 48h time to make it. Then all the movies are distributed across the continent with all participating stations and everybody votes on the best movie. By far the best one this year was Australian Station Casey. Check it out :). (and the elements this year were: Line of dialogue: "Do you think you could light my fire?", Action: Karate chop, Object: Sausage, Sound: Sound of popcorn popping, Character: A blind barman)




07-09-17

We just entered civil twilight. Only about 2 weeks until sunrise, still we had some of the coldest days of the winter in the past 3 weeks. NOAA is launching the large plastic ozone balloons now every few days. The sunlight is hitting the upper atmosphere now for weeks, which starts to create free radicals that attack the ozone. So as we speak the ozone hole is starting to form again. The ozone balloons help to meassure the vertical ozone concentration.
Here is a picture of yesterday's balloon launch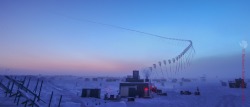 On August 06 we had the corresponding lunar eclipse to the total solar eclipse on August 21 in North America. The moon was only partially eclipsed so nothing special. And some more twilight pictures.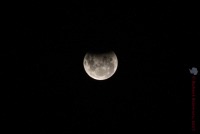 I also finally found time to update the Auroras 2017 with the July and August pictures. June and the first half of July was pretty hazy so I didn't take much pictures, but the end of July and August were awesome!

Also here is an article from "Der Spiegel" from last year.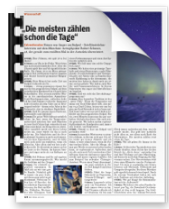 August 2017

19-08-17

So the sky is getting a bit brighter towards the direction of the sun. Another few days and we will enter nautical twilight (sun will be only between 12&deg and 6&deg below the horizon). Last Monday we reached the first time -100&degF (-73.4&degC) again after a quick drop below that temperature on our midwinter dinner. This time it actually dropped to close to -77&degC and it was holding for most of the day. But then it got overcast and warmed up to the -40s&degC so quite the temperature jump in a day.
That normally means not much wind and crystal clear skies, which we didn't have for the past 2 months. But that day was gorgeous and then the auroras came. Some of the best auroras I have ever seen !! And by now I saw quite a few. I was out for several hours taking pictures and just enjoying the show, lying in the snow for a few minutes and then go back inside briefly to warm up again and change camera batteries. What an incredible sight.

Here are some pictures from the highlight of the display the first three are only exposed for 2 sec (f4, ISO 6400) and the four below that are even only exposed for 1.3 sec and the bright parts are still washed out.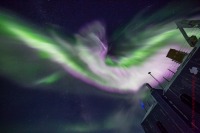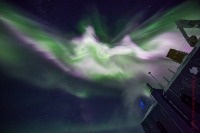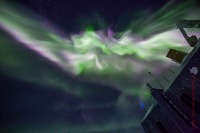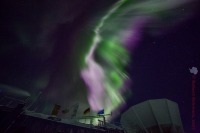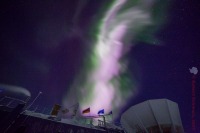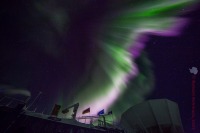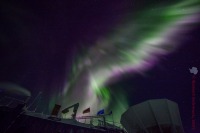 And here check out this short video - auroras in real time!! 25 fps (f2.8, ISO 51200) but even here the brightest parts are washed out a bit. When the auroras are so intense you can see the colors like in the video with the naked eye. But these auroras were so intense that the best viewing was with the naked eye. Most of the time it looks better with the camera since you see more colors, but not these ones.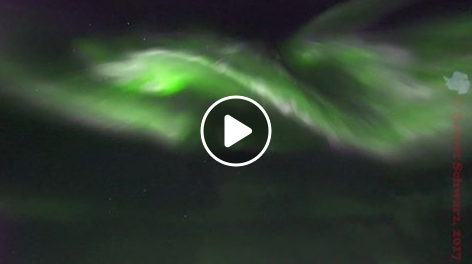 07-08-17

Last Friday at 0400 we had our Ham radio exams, it was so early because we had to use the good satellite to do a video conference with the US. I passed all 3 exams, Technician, General and Extra and my call sign is AI6YJ now.

Had more windy days, but July finished with some clear skies and some awesome auroras just before the moon came back up. But very faint twilight was already visible and on August 1st we passed into astronomical twilight.
Here is a picture from July 30 with the moon already up but you can see the glow of the sun in the middle of the picture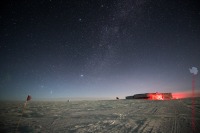 And here is a realtime movie from last week. So that is how fast the auroras can move and how this intense auroras look to the naked eye. Exposure is 25 fps (f 2.8, iso 51200). That was a pretty amazing display.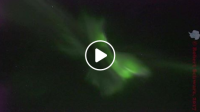 July 2017

20-07-17

Very windy for the past 3 weeks with lots of haze, not many aurora pictures so far. I also uploaded the June auroras and shockingly I got very little pictures from June, that is single aurora pictures, not time lapse. I did one with 11000 pictures over a couple of days. Hope the activity is ramping up a bit since this after the next moon period a faint glow of the sun will be visible on the horizon.

10-07-17

The 2017 Winter Olympics are over, was a lot of fun :) We even got nice medals, our electrician and some helpers put a lot of effort into it, thanks :). Had the big medal ceremony yesterday in the Gym. Science won the most medals :)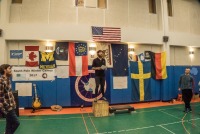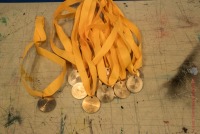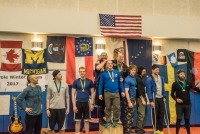 04-07-17

Happy 4th of July :) Midwinter is passed and since then the sun made half a degree towards the South again. We had pretty crappy weather over the past weeks, with lots of hazy skies and now the moon is back up.
On Sunday the 2017 Winter Olympics started here, with beer can sprint (beer can is our cold but internal stari case with over 90 steps connecting the tunnels with the elevated station ;) ), sledge pulling, Volleyball, table tennis, 8 ball pool, 10k run and some other activities. The last 2 Sundays I gave a little presentation about "Time travel South Pole" - the South Pole over the past 20 years. Hard to believe that I did my first winter 20 years ago and 13 out of the past 21. The telescope has it's little problems but mostly running well just the weather could be better since we observing this year only at higher frequencies, we are affect by not perfectly clear skies more than in the past.




June 2017

20-06-17

Already way behind with updating my site here again. Midwinter is approaching fast.
Sunday we had our midwinter feast, although midwinter is not until tomorrow 0424 UTC. So only 3 months until sunrise now and 3 months since sunset.

Happy midwinter to all the Antarctic stations :)

On Sunday just before the dinner, we reached -100F (-73.4&degC) for the first time of the season, but very briefly so nobody had the chance to join the 300 club ;). Temperatures skyrocketed since then and 24h later it was only about -60F.




A year ago we were awaiting the medevac plane, quite a bit quieter this year :)

Here is another time lapse from the ceremonial Pole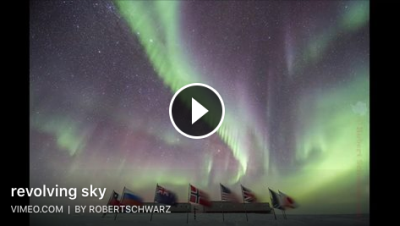 06-06-17

Here is another video, with the tracking mount from early May that I finally processed. The moon is back up for the next 2 weeks, so not too much aurora pictures going on.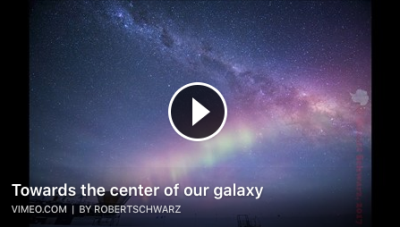 May 2017

26-05-17

Time is flying again, less than 4 weeks until midwinter. We still haven't reached the magic -100F yet, but were close a few times. The telescope is mostly running fine, but we are experiencing some computer problems and last night we had to exchange 2 more leaky He hoses. Last week weather was pretty crappy with lots of snow accumulation, it took Matt and me 2 hours to clean out the ground shield of the telescope
Still waiting for our best satellite, DSCS to work again to do our amateur radio exams. Without DSCS, sat performance is sub-optimal. But I was still able to upload 2 new videos over the course of a couple of days.

Here are two new time lapse, make sure to check out my vimeo and facebook presence as well for more updates and movies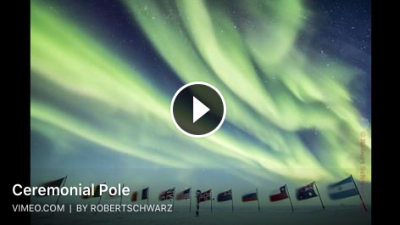 And this video is from May 2nd, before the red lights on building 61 came on. Tracking the center of of our galaxy around the sky for more than one day. Definitely check it out and make sure you got sound :)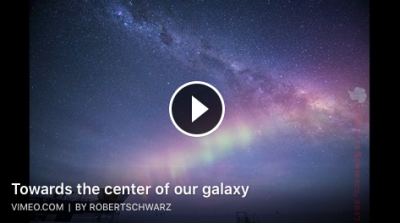 12-05-17

This is actually a rare sight since the flags of the ceremonial Pole are always removed around sunset and not put up until sunrise again. This year they stayed out, this opportunity I had to use and went out to take several pictures and time lapse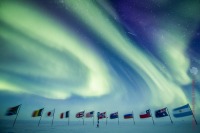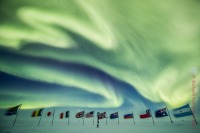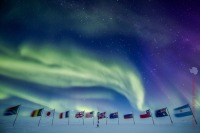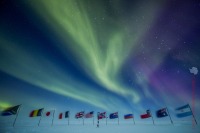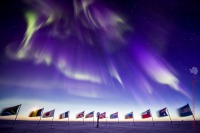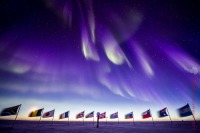 02-05-17

Today we went outside as part of the astronomy class and we pointed out the constellations, brighter stars etc with a green laser pointer. Last night temperatures fell below -70&degC fro the first time this year, but we haven't reached the magical -73.4&degC (-100F) yet. But this means nice clear skies, so great for some stargazing ;)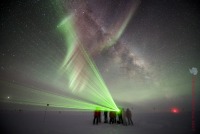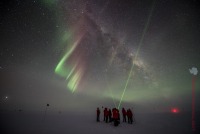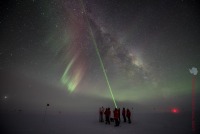 Also Bill Spinder's updated winter-over statistic is out again. On his page you will find also a LOT of information about the South Pole Station.

April 2017

25-04-17

Finally a stretch of cold temperatures and clear skies, the moon set as well and we are enjoying the first dark skies, the sun is now in astronomical twilight, the glow is still visible weak on the horizon.
Here are some of the first aurora pictures for this season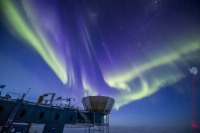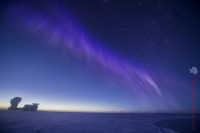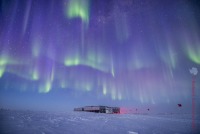 Our kitchen is closed at the moment for some work to the air handlers, so for 3 weeks we are having an improvised kitchen and serving line. Also the food is based on premade microwave food, but our cooks still try to make the best out of it.



12-04-17

Yuri's night tonight, we will have our celebration on Saturday. More and more stars are visible, the sun is nearly 9&deg below the horizon. This morning clouds moved in, only leaving a very small red stripe on the horizon. The moon is up as well again for 2 weeks.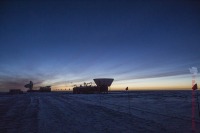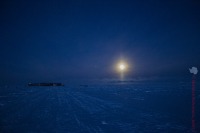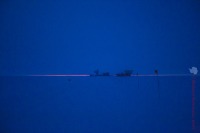 Every Sunday afternoon we are playing "Carcassonne" and later that day a "Settler's of Catan" or two, last Sunday we actually played seven in a row, so with Carcassonne that were 9 hours of board games :)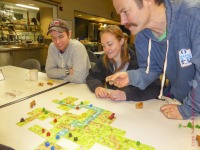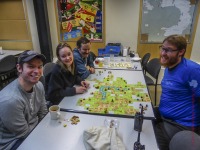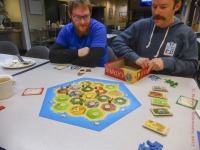 07-04-17

We are in nautical twilight, the sun is 7&deg below the horizon. Yesterday I could see the Southern Cross for the first time this year from down here. Unfortunately the weather is not very cooperating over the last weeks and we have a lot of clouds.

Next week our kitchen will be out of commission for several weeks due to some construction work that needs to be done. So we will live off microwave meals for the time...

March 2017

29-03-17

NOAA switched to the plastic balloons, since it is getting too cold for the rubber ones. The first was launched today. Here is multiple exposure.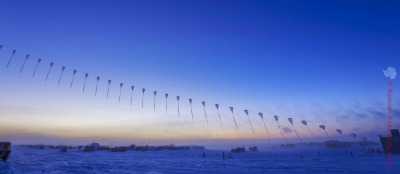 On Sunday we had our sunset dinner, one of the big celebrations during the winter. The cooks did an awesome job again. Weather could have been better around sunset, but there were a few hours we could actually see the refraction of the sun and even a green "flash"

19-03-17

A week ago we removed the giant calibration mirror and modified the telescope for CMB observations. We got one new detector out of the five and Keck/SPUD is now mainly observing the dust in our own galaxy and we are trying to figure out how much it affects our real signal. To find out more about check out this great BBC documentary.

The moon came up 6 days ago, and I tried to improve the "changing phase" time lapse from last year, but the weather is not cooperating and the last few days it's mostly quite windy, overcast and now visibility of the moon. Unfortunate since that is really the only time of the year, this particular time lapse will work out.
But I just before the moon rose, I got a nearly 5 day time lapse of the the sun.




The sun is less than 1&deg above the horizon. Tomorrow night is the official equinox. We will see the sun (if it clears up) for a few more days, before it's gone for 6 months.

06-03-17

The sun is only 5.5&deg above the horizon, but it is the warmest winter beginning I have ever seen down here. Normally around mid February the temperatures go below -50&degC, of course there are warmer days, but this year we haven't even reached -50&degC yet, and we had quite a few days with temperatures just below -30&degC. Of course it makes all the outside work that has to be done now a bit easier.
We also had the last Kenn Borek plane coming through for refueling on March 1st. They only stayed for less than an hour and were glad to get on their way to Rothera.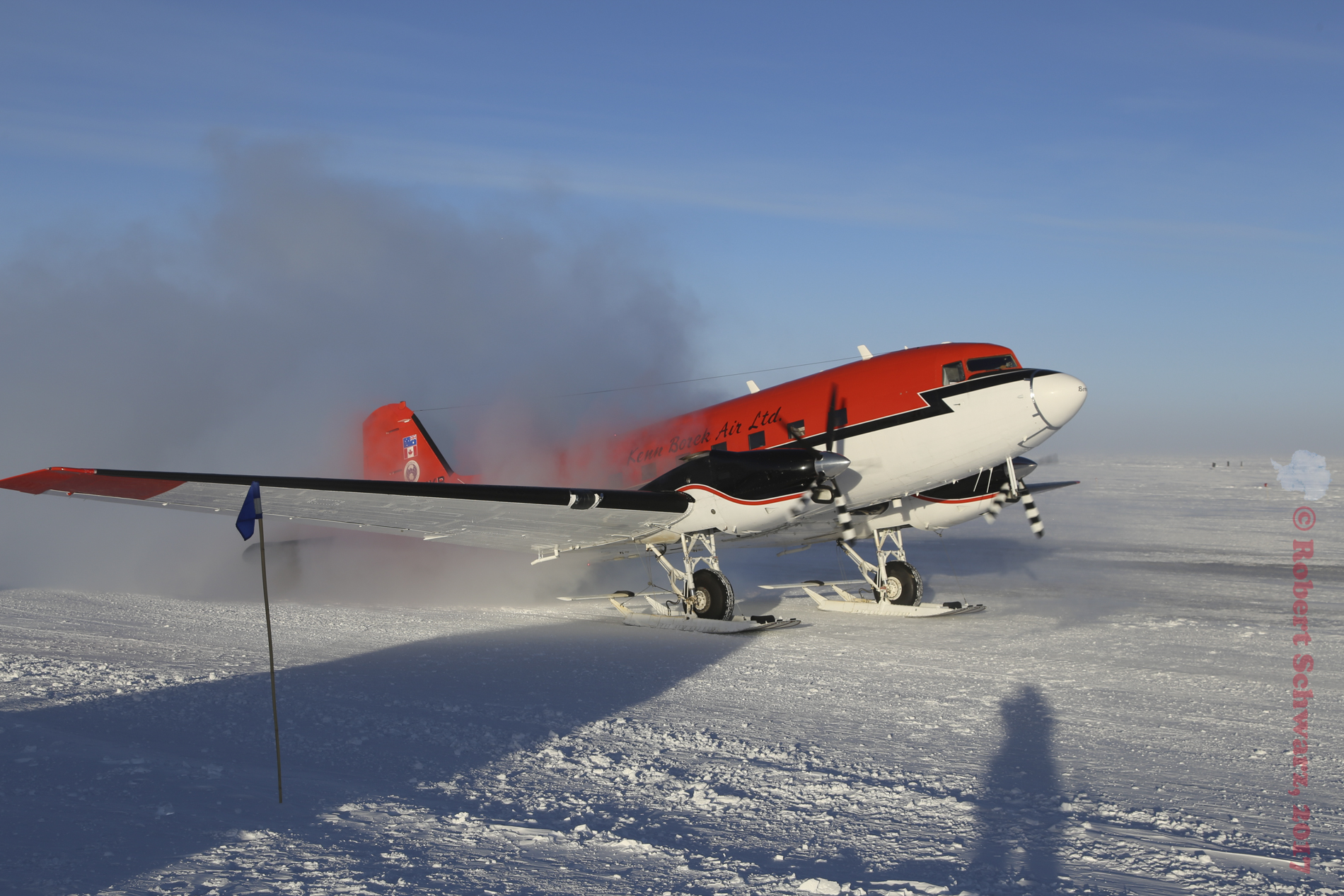 The telescope is still in calibration mode, but we should be done this week, that would be earlier than the past years, but that would be great, especially with the warmer temperatures, since it is a few days of outside work, to get the calibration mirror down and set up the telescope for CMB observations. So far we only had some minor technical problems and the telescope runs great after all the upgrades from the past summer - knock on wood ;)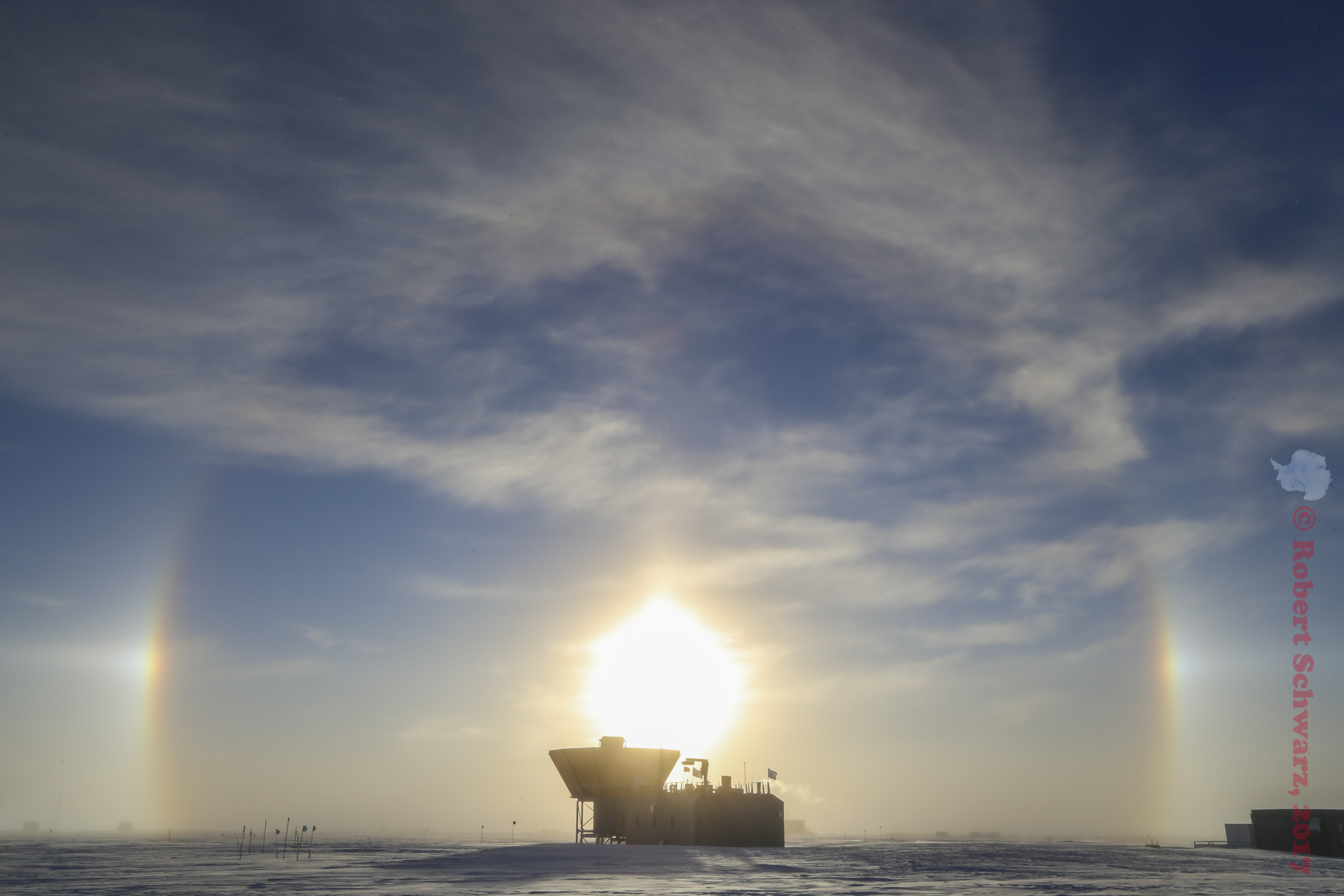 February 2017

18-02-17

Made it back to Pole on Friday night Feb 10 at 2300, a bit more than 24h in McMurdo, and 3 days delay in Christchurch, so I had 6 days of summer there :)
This year the telescope and lab were in a great state, thanks to all the summer people for their hard work. Last summer folks left on Wednesday and left 46 winter-overs for winter 2017 back at the Pole.

Just getting started to set up all my computer stuff etc. so soon more :)