Sunset & Twilight 2019
April 2019

05-04-19

We are just entering nautical twilight, the first stars are visible, as well Jupiter and Venus and in the next days it should be dark enough to see Mercury as well. Besides a few days of storm the last 2 weeks were quite nice.

March 2019

25-03-19

Nice weather for sunset :) We had our sunset dinner last Saturday, was again excellent and after the food coma, yesterday we had an open house in the dark sector at the telescopes. From the 42 this year there are only a dozen scientists all the other personal is support: medical, cooks, mechanics, logistics etc. so we can show them what they are supporting ;)

Last week we converted the telescope back to CMB observations from the calibration setup. That meant 2 days of work mostly outside.

15-03-19

Today the first South Pole winter-over launched into space to spend 9 months on the ISS, Christina Koch wintered in 2005 here at the Pole as cryo tech. Back then all the telescopes were open systems and still needed liquid Helium and Nitrogen every day to keep them cold. Christina was selected by NASA in 2013 and after years of training finally launched into space today.
Today it was also announced that she will stay for 9 months (Expedition 59, 60, 61) instead of the normal 6 months. Her two colleagues on today's launch were Aleksey Ovchinin and Nick Hague who had a launch abort in October and a ballistic reentry. That mishap changed the composition and duration of the next spaceflights.

Also my friend Luca Parmitano will launch on expedition 60 and will be commander of the ISS during expedition 61. See also winter 2013 when Luca was up for his first mission on the ISS. Once both are up there we will at one point have a live feed ISS-South Pole :) looking forward to talk to them.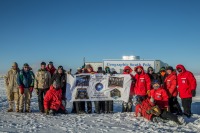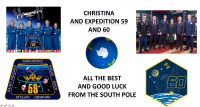 10-03-19

Things are getting into the winter-groove. Sun is getting low, only a bit more than 4%deg above the horizon, the time of the long shadows, about 2 more weeks of direct sunlight, then it will be gone again for 6 months.
Telescope is running and we are still in the calibration mode. Hopefully we can take the big mirror off soon and get ready for CMB observations. The new telescope which will replace SPUD/Keck-array next season is coming along back in the States.

Pictures of the increasing shadows and the new flag line which helps to find your way to out buildings in server weather and darkness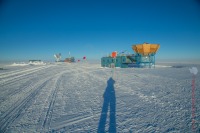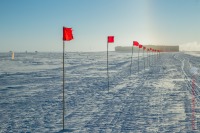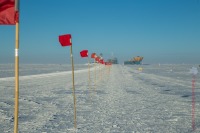 February 2019

28-02-19

The new Pole Marker for 2019, designed and made by last and this year's machinist Steele Diggles, a real master piece. The geographic South Pole is fixed of course, but the 3km slap of ice we are sitting on is moving about 10m per year, so every 1st of January the exact Pole is determined and the new Pole Marker is placed. If you compare the location with respect to the station over the years, you see how far it moved.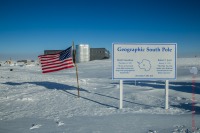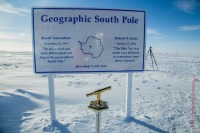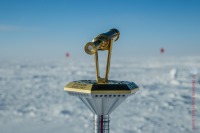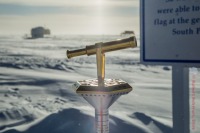 23-02-19

Back at the Pole for 2 weeks now, coming down worked flawless again, had 2 extra days in Christchurch, which was nice, although the temperatures were a bit chilly during these days.
Station closing was on February 15 and we finally getting settled in for winter. Telescope and MAPO weren't in the great state of last year, but by now things are shaping up.

The last Herc of the season with departing summer folks